$date_and_audience_info = get_field( "date_and_audience_info" );?>
2020 Fitter and Faster ASCA Age Group Coach of the Year
The Top 50 Age Group Coaches in the USA
Since 1986 The American Swimming Coaches Association has been honoring the top age group coaches in the country.  We believe in high level age group swimming and we are highly supportive of the fine coaches who do establish the base of the finest swimming nation in the world.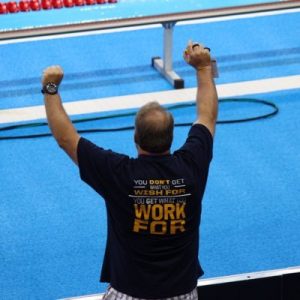 In the beginning of the AGCOY program local ASCA chapters sent in their nominations by whatever process they deemed appropriate.  With the modernization of the USA Swimming National Rankings program and the ability to download data ASCA then had the ability to move the program from a local popularity contest to a national program based on objective data.  In 2014 Fitter and Faster came on board as the title sponsor and ASCA began identifying the top 50 age group coaches in the country with the top 10 being invited to the ASCA World Clinic Awards Banquet and the overall winner of the Faster and Fitter ASCA Age Group Coach of the Year announced.
The top 50 age group coaches in the USA was compiled from the USA Swimming's National Rankings data.  The top 20 swimmers in the 9-10 and 11-12 age groups were downloaded for the 2019 Long Course and the 2019-20 Short Course seasons.  Two virtual swimming meets were compiled, one for LCM and one for SCM with scoring to the top 20 places.  The results were combined to determine the top 100 Age Group Teams in the USA for the two seasons.  From the list of 100 teams head coaches were contacted for the names of their age group coaches responsible for each of their swimmers who were ranked in the top 20.  The coaches' names were entered into the data alongside their swimmer's performances and the results were resorted and rescored by coach.  Coaches received bonus points for number of #1 rankings, for number of different swimmers ranked, and for number of total rankings.  From these results we present the top 50 age group coaches in the USA.  Congratulations to everyone.
From these results the Top 10 finalists were determined and are being announced prior to the 2020 ASCA Cyber World Clinic. On Friday, September 18th, the Fitter and Faster ASCA Age Group Coach of the Year will be announced live as part of the Cyber World Clinic.
| | | |
| --- | --- | --- |
| Coach | TEAM | LSC |
| Abdelaal, Mohamed | Scarlet Aquatics | NJ |
| Alderson, Jack | Beach Cities Swimming | CA |
| Applegate, Tom | Rockwall Aquatic Center of Excellence | NT |
| Barber, Chris | Sandpipers Of Nevada | CA |
| Brandt, Jonathan | Texas Ford Aquatics | NT |
| Brol, Allison | Nitro Swimming | ST |
| Bubolz, Kyle | Chicago Wolfpack Aquatic Club | IL |
| Cormack, Audrey | North Texas Nadadores | NT |
| Cravens, Jason | River City Aquatics | OZ |
| Cullom, Deni | Olympus Aquatics | UT |
| Davey, Kate | Central Iowa Aquatics | IA |
| Davies, Phil | Schroeder YMCA Swim Team | WI |
| Fierro, Carle | Westchester Aquatic Club | MR |
| Garman, Don | La Mirada Armada | CA |
| Greene, Dave | Rockville Montgomery Swim Club | PV |
| Hirth, Drew | NOVA of Virginia Aquatics, Inc | VA |
| Jimenez, Hector | Rose Bowl Aquatics | CA |
| Johnson, Andrew | Quicksilver Swimming | PC |
| Khadembashi, Iman | Team Santa Monica | CA |
| Knight, Titus | Mission Viejo Nadadores | CA |
| Lancey, Suzanne | New Canaan YMCA Caimans | CT |
| Mack, Cashel | West Florida Lightning Aquatic | FL |
| Madarassy, Adam | Eagle Aquatics | FG |
| Maggiora, Ned | South Bay Aquatics | SI |
| Marumoto, Andrea | Somerset Valley YMCA | NJ |
| Materov, Alex | OC Riptide Aquatics | CA |
| Miller, Erin | Scarlet Aquatics | NJ |
| Miller, Reed | DART Swimming | SN |
| Molenaar, Owen | Pacific Swim | SI |
| Mullen, Kate | NASA Wildcat Aquatics | IL |
| Musso, Nelly | Hornet Age Group Swim Club | IL |
| Norman, Rob | TAC Titans | NC |
| O'Dell, Marni | Chino Hills Aquatics | CA |
| Oesting, Megan | Eastern Iowa Swim Federation | IA |
| Pacey, Ed | Blue Ash YMCA Swim Team | OH |
| Pajer, Brian | Aquazot Swim Club | CA |
| Pfaff, Chris | Carmel Swim Club | IN |
| Pistorius, Kainoa | Wolverine Aquatics | SN |
| Pohilenco, Luba | Santa Clara Swim Club | PC |
| Rayle, Alex | Piedmont Family YMCA/CYAC | VA |
| Rowe, Chris | Texas Ford Aquatics | NT |
| Smith, Jim | Texas Ford Aquatics | NT |
| Sniad, Solomon | North Baltimore Aquatic Club | MD |
| Sofia, Gabi | Long Island Aquatic Club | MR |
| Stump, Errol | Brea Aquatics | CA |
| Taliaferro, Mark | Santa Clara Swim Club | PC |
| Welter, Bryan | Lakeside Aquatic Club | NT |
| Wohl, Dan | Waukesha Express Swim Team | WI |
| Woodward, Michael | Lake Oswego Swim Club | OR |
| Yuca, Ryan | Bluefish Swim Club | NE |
Check out Fitter and Faster's Top Ten Finalists On Our Swim Blog: