FFT Insider: Being on the iconic 1996 Team USA Olympic Relay – Review
May 20th, 2020
My 12 year old daughter has participated in many of the FFT Live Webinars over the last few weeks.
First and foremost—THANK YOU to you and all those who make these happen!  I have had the opportunity to sit in the same room as my daughter and listen to many of them.  All have been good and have many takeaways for an athlete who works very hard at a sport she loves.  Today's was amazing!  Hearing not only about the actual race itself, I believe having the men talk about their "early years" as well as what they are doing now is very important (in my opinion) for these young athletes to know.
Just wanted to say THANK YOU for doing these – especially at no cost…..it helps make a difference to those who are financially struggling right now.
THANK YOU!
'Swimming message' has been on point!
May 13th, 2020
My kids have done some of your clinics in the past and I have watched many of your presentations.
I swam at Columbia College in the 90s, did some HS coaching, have done a lot of officiating, and now I coach a masters group at our summer pool & I have learned a lot from Fitter and Faster.
I have used Tyler McGill's dryland ideas and Lee Sommer's strength training for myself and for my kids in our basement and garage. Whenever we get back to the pool, I will use / test out many of the ideas presented by your great clinicians.
These videos are amazing & the Gail Devers & Carl Lewis presentations were fantastic.
Thanks a lot! Your company was absolutely not flat-footed when this crisis hit the world and the swimming community. The politician's message shift, but your 'swimming message' has been on point!
This pic is of my youngest daughter Jamie at the Snohomish pool in Washington.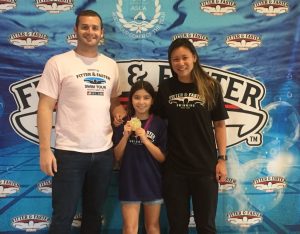 Best Regards,
Jason
Keep up the great work
March 6th, 2020
Thank you for the awesome job you are doing, You all are such an inspiration and wealth of knowledge to all children and parents attending. Keep up the great work and know that 1 of kids you are teaching could be a future Olympian. They did a great job in really going into all of details of the stroke and followed them up with different techniques to help practice what they have learned.
Madison, WI
Feb. 13, 2020
Made his Zone cut!
March 6th, 2020
I've held off on writing a review until now in order to better evaluate the advice given. I can honestly say now that this camp made a huge difference in my son's swimming. He dropped time in his breast stroke immediately following the clinic, but the real tangible results showed today. He'd been making small time improvements and inching his way towards his Great Lakes Zone cut, but today I finally had the opportunity to be on deck with him before his races (I'm not a coach). This gave me the opportunity to remind him about Kristi's "free speed" advice on his turns. He finally put it all together and not only made his Zone cut, but obliterated his previous best by 1.77 seconds! Had he not gone to the camp, and had I not been allowed to participate in it with him, I'm honestly not sure if he would have made Zones. Thank you for a fantastic experience! Thank you Kristi for helping Noah achieve his dreams!!
Bay City, MI
Feb. 16, 2020
Third Clinic!
March 6th, 2020
We have two daughters Alayna (8) and Alexia (10) we have attended 3 clinics in the past and have had a great experience at each and everyone! Thank you for spending your time improving these kiddos that love and enjoy the sport of swimming. Our girls have learned skills and always dropped time after attending the clinics. They now swim USA and have a JO qualifying time.
Mishawaka, IN
Feb 17, 2020
Best clinic to date
March 6th, 2020
Aubryanna said it was the best clinic so far. She loved how both Christopher and Ben got in the pool and worked with them on technique. She is excited to use the backstroke start and the turn in her daily practice. I want to thank both Christopher and Ben for teaching all that was covered in such a thorough way and done on the age level of the swimmers attending. It was upbeat and delivered a very positive environment. It was also appreciated that they included the parents and grandparents in understanding the techniques and how to keep reinforcing the swimmer. It is taught by Olympians, world champions and coaches who know first hand what worked for them and how it can work for the swimmer attending. Knowing that what they are teaching brought true results for them means so much more. This was absolutely the best clinic to date. So sad we can't do it every day!!!
Temple Terrace, FL
Feb. 17, 2020
Thank you both!
March 6th, 2020
I want to take the time to say that you guys touched my heart when you continue to work and engage with Braden. He has very low self esteem when it comes to the way he looks (due to med for his breathing) but swimming has improved his lungs and hopefully his self esteem.
THANK YOU BOTH……
Temple Terrace, FL
Feb. 18, 2020
WE LOVE YOU!
March 6th, 2020
We asked them and the drills we did on Saturday, the start drills is what they all liked the most. They all remembered the "cactus arms" and liked jumping off the blocks. What everyone found amazing was watching Clark do a butterfly turn inside a chair and not bump his head or his long arms. OF COURSE they all loved it when they got to race them at the end!! WE LOVE YOU! Your energy, enthusiasm, knowledge and amazing achievements completely rubbed off on our kids, and they all love swimming but I know for a fact they all love it even more after this event, and they all want to be Olympians 🙂
Mishawaka, IN
Feb 18, 2020
Easy for our team to host!
March 6th, 2020
Both Christopher and Ben did a fantastic job. They were engaged and engaging with both age groups. They took the time to provide personal attention and advice where needed. They both certainly have excellent presentation skills and their directions were easily understood. Thank you for making this easy for our team to host!
Temple Terrace, FL
17 years old
Feb. 19, 2020
Above and beyond what was expected!
March 6th, 2020
Christopher Reid and Coach Ben Lee were AMAZING! I was hesitant to drive three hours to a city I had never heard of for a clinic I had never heard of but now having had my kids attend we will attend as many of these clinics as we can. They were above and beyond what was expected. My kids have attended swim camps at FSU and USC and both said this was better and that they got more out of it than those camps. As a parent, I stayed poolside to observe and was extremely impressed with both what they were taught in the pool and also the talks. Both Mr. Reid and Mr. Lee were extremely motivating and informational. I cannot say enough good things about this clinic. We are grateful to we found it and will be looking for more Fitter & Faster camps in the future. We will also discuss it with our coach. I purchased the book 'The Talent Code' for each of the three girls I brought and my husband and I are both reading it–thank you for the recommendation Coach Lee–it's very interesting.
Temple Terrace, FL
14 years old
Feb 20, 2020