Confidence boosting!
August 24th, 2021
Terrific job! Exactly what my son needed to boost his confidence getting off the block and executing turns. He's anxious for the next swim meet to show off his new skills! – John, Dallas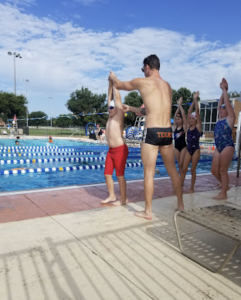 Technical and Mental Gains!
August 24th, 2021
I thought the coaches did a great job with technical skills (reported by my daughter). She said no one ever told her these things about turns and starts.
As a parent, I thought the tips the coaches added about stretching, breathing, mantras and other fine details were great to hear/see. I think these items are often left out for young kids, but giving these kids coping skills, and instilling good habits is critical and I appreciated this aspect as much as the technical gains. – Jarett in Indianapolis
More confidence in strokes
August 24th, 2021
My daughter has gain insight of the technique of each stroke. The drill work has helped her perform the stroke with better stamina and training tips before she gets in the pool. Every time I see her put together what she have learned from the clinic, I observed that she has more confidence performing the strokes. These exercises and teachings are absolutely beneficial for her. – Mishelle in Potomac, MD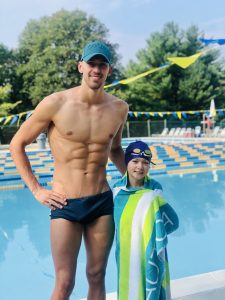 My daughter left the clinic so enthusiastic about her experience!
August 24th, 2021
My daughter left the clinic so enthusiastic about her experience! Nick Thoman did an amazing job instructing and demonstrating techniques, as well as spending quality time observing each swimmer as an individual. Excellent constructive and positive feedback gave my daughter just the confidence boost she needed. Thank you for a great clinic! – Hobart, IN, 15 years old
Amazing Job!
August 24th, 2021
Tate and Dax did an amazing job keeping the clinic running smoothly while engaging every participant. Their enthusiasm and knowledge of the sport, along with the personal experiences they share was extremely valuable. My son has been to a number of camps and clinics as a swimmer. He says this one is at the top of his list. Amazing job!! -Tammy, Dallas
"My children definitely applied what they just learned in the clinic"
August 19th, 2021
Brett Hawke and Austin Surhoff worked extremely well together because they respect each other. and they were amazing in how they shared their knowledge and time with the kids. I had two swimmers attend the High Performance Starts, Turns, and Freestyle Camp in late June at Haven Beach, NJ. Both my 7-year-old daughter and 13-year-old son learned a lot from Brett and Austin during their 3-day clinic, and my children definitely applied what they just learned in the clinic during the summer swim season. Brett and Austin not only shared their swimming techniques but also their personal experiences like how to handle nerves on race day, pick a goal, work hard for it, and continue to push yourself hard through training. The kids asked a lot of questions, and Brett and Austin were happy to answer them. As a parent, I enjoyed listening to their Q&A sessions toward the end of each clinic. –Teresa Barry, Haven Beach, NJ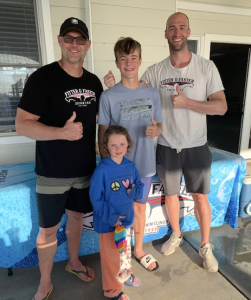 I learned a lot!
August 19th, 2021
After missing a whole summer due to the pandemic, this was my first year swimming 50s. My coaches tried to explain turns to me but Amini was amazing and I finally understand them and how to feel fast! I definitely learned a lot about how to execute my turns to improve my overall breaststroke time! – Vergennes, VT
"Came away motivated and could actually put the skills to use"
August 19th, 2021
Thank you for an engaging 2 days. The mix of fun and the energy of the clinicians helped my 10 year old boy stay focused and engaged. He came away motivated and could actually put the skills to use as the clinicians effectively communicated them in language that his age could understand. Also, thank you for taking the time after the session to display your awards, to sign caps, talk with the kids and take pictures. That in of itself made my son so happy! – Elaine, Charlotte, NC
"I wish my son's practices were held with this much attention to detail and valuable feedback"
August 19th, 2021
Both Brett and Keri had excellent communication skills…they spoke loudly and clearly, making it easy for everyone in the pool to hear them. They were also friendly and approachable! Very well run and had meaningful content…I wish my son's practices were held with this much attention to detail and valuable feedback. We will take more clinics in the future to supplement his swim training! – Irvine, CA
"Left the clinic with lots of take aways and ready to apply what they learned"
August 19th, 2021
Both Coach Stickels and Coach P were awesome! They were generous with there time and they had great insights to offer. I would definitely return to a camp that either of them put on!! The Boys left the clinic with lots of take aways and ready to apply what they learned. – Alisanne Steele, Oakley, CA [13 years old]