Gained confidence
October 15th, 2020
My daughter felt she gained confidence and insight during this clinic. Backstroke is her weakest event, so the expert guidance she received was needed, and very appreciated. The coaches were excellent. Thank you!
Denver, Colorado
October 15th, 2020
Thank you so much for putting the spark of excitement back in the sport of swimming for my daughter. This clinic gave my daughter confidence and a really positive environment to learn a new skill & improve skills she already has.
Thank you for the attention to COVID details!
October 15th, 2020
The clinicians really did an incredible job this weekend. We have loved all of our clinicians at the other camps we have attended, but they really worked well with the kids in a way that was supportive and very well organized. We signed up last minute because my boys were not thrilled with doing a butterfly camp, but I am so glad we did it!
Thank you for the attention to COVID details. As a family that really needs to be careful due to risk of exposure, we felt very safe.
Harrisburg, PA
11 years old
Clinicians were great!
October 15th, 2020
Clinicians were great! They were polite and greet to parents when they see them in the morning. They were engaging with swimmers. They were good role model to the swimmers. My daughter and her teammates enjoyed the camp very much!
This was my daughter's 2nd camp. She enjoyed both very much. On the first camp back in December for free style with Gary Hall, Jr. and Kim Vandenberg, she applied the techniques from that camp and improved so much on her freestyle. Her coach recognized the improvement. We hope that she will apply what she learned from this camp, backstroke, and improve her strokes. Thank you so much for coming to Irvine! We hope you will come back for breast stroke and butterfly!
Snohomish, WA
October 6th, 2020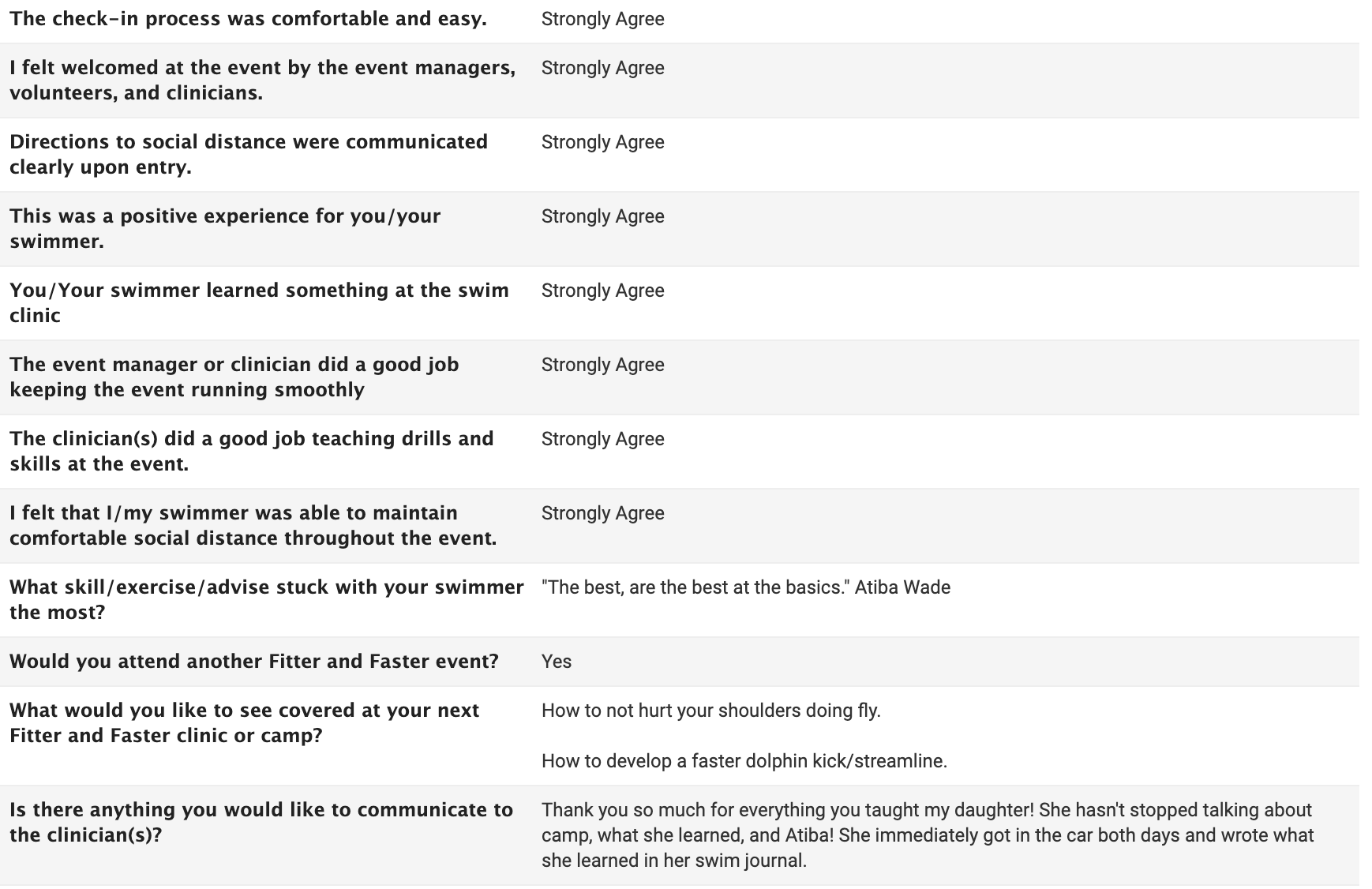 Clinics keep getting better and better
October 6th, 2020
Clark was absolutely fantastic! He was so engaging from beginning to end, was so positive, and I really appreciated how he had a lot of the different participants demonstrate and gave positive reinforcement for doing it in front of a crowd. We have been to many camps, and every clinician has been wonderful, however I just feel that Clark really was able to instruct in a way that these younger kids truly understood what he was saying and were excited to try and execute it. In my opinion, these clinics keep getting better and better. I really like the smaller sizes, I feel that my child is truly getting some really good one on one feedback.
September 19 & 20: Comprehensive Freestyle Racing Camp
Indianapolis, IN
Thank you, Carlos and Fitter & Faster!!
October 6th, 2020
The clinician Carlos was absolutely wonderful! Grant felt very honored and was awestruck with Carlos. He has been showing his teammates his autographed cap, and bag tag. When Carlos told us about a personal event that happened to him at the OLYMPICS, I think Grant completely took that experience and the advice that came with it, with his whole heart. On the bag tag, Carlos spoke about confidence. I think his words of wisdom, and him actually getting in the pool and correcting, offering specific on hand advice was so much more than we had expected or hoped for. He really exceeded our expectations, and even our Head Coach at Pirahna Aquatics shared their photo together on Facebook and Instagram! I hope to be able to attend another one soon! Grant had a BLAST! Thank you, Carlos and Fitter & Faster!!
You were phenomenal, Carlos! Please do another clinic in Ohio. My son Grant has still been talking about it, his Coach posted the photo of you and Grant on his team's FB and IG account, and he has been proudly showing his friends and teammates his photo with Olympian Carlos Claverie! Your incredible experience at the Olympics, was something that he really was struck by…he has struggled with getting through and moving on from disappointment in the past. It's actually been a HUGE struggle. He has left meets, told me he was done swimming, he was not good enough, he shouldn't be there….mistakes and bad races are incredibly difficult for him to move past. Your story hit home with him (even though he's only 11, LOL!! ) I think it really helped him to see that even though it can be difficult, that you CAN and WILL get through it. You are my son's new hero!! Thank you SO VERY MUCH!!
Frisco, TX
October 6th, 2020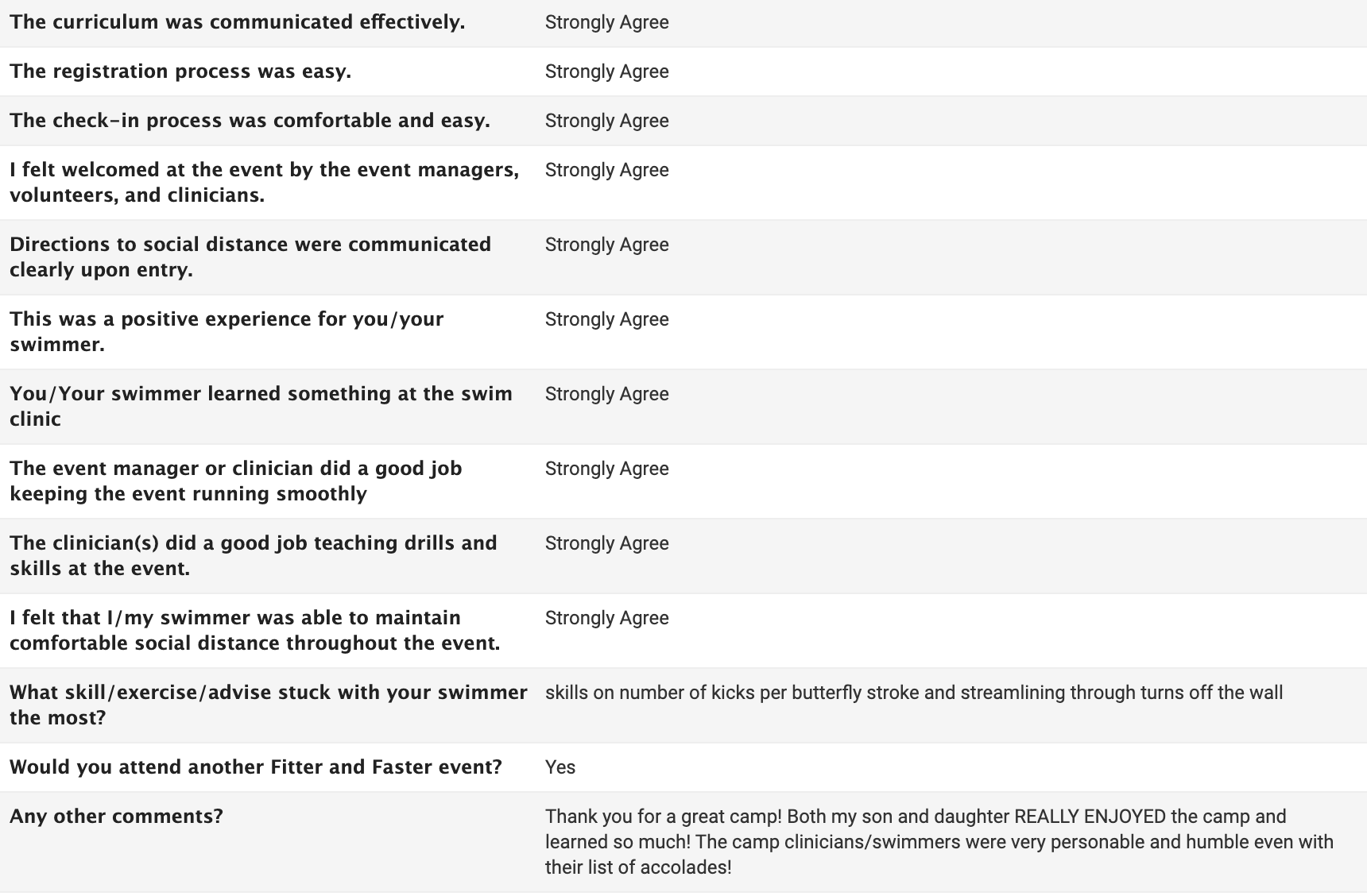 Made us love swimming!
October 6th, 2020
Of all the clinics that my 2 kids gone to (2 clinics – 4 days total) this one was very unique. The kids mentioned that both Atiba Wade and Giles Smith and them feel that swimming was fun, enjoyable, comfortable in wanting to talk to them about anything. I guess it's a personality and a sense of humor that my kids experience in Atiba and Giles. The kids liked all the clinics, but feel they like being around Atiba and Giles more.
Both kids (age 10 and 13) wanted to say coach Atiba and Giles you're funny and good at coaching. We like your personality and friendly (not serious) environment that made us love swimming and going to the clinic. Thank you!
Cottonwood Heights, UT
Anonymous
Walked away feeling more confident!
October 6th, 2020
My daughter walked away feeling more confident in her backstroke. She received feedback and small corrections that she can continue to apply long after the clinic was done. We have known Amy for over 9 years and my daughter was so excited to swim with Amy again. I am Amy's former high school coach and Amy worked with my daughter when she was 3 on backstroke. This event was amazing. Your positivity and encouragement was greatly needed. My daughter was so happy and tired after each day. You helped her confidence grow and she now has a positive outlook on her IM's. Backstroke is her weakest stroke. Thank you for making it fun!
Scottsdale, AZ
13 years old