Definitely participating in more camps in the future!
May 26th, 2022
This was our first swim camp and the bar is set high. My swimmers learned so much, they learned about staying hydrated and fueling their bodies properly… how important stretching is… pushing themselves just the right amount to avoid burnout. A huge thank you to Cierra and Molly for coming all the way to Alaska… please come back! My girls loved it. Definitely participating in more camps in the future! – Wasilla, AK
A big THANK YOU for running and excellent clinic.
May 26th, 2022
A big THANK YOU for running and excellent clinic. You both said it was the first time working together, but the two of you complemented each other so well. It seemed like you were best friends and were doing this together all the time. Mokhtar and Andrew were amazing. Very well prepared and they ran the clinic very efficiently. There was no downtime, and they were very good in explaining the drills, why they were doing them and also showing them in the water. Either Mokhtar or Andrew was in the water at any time and also working individually with each swimmer. My daughter learned a lot in the two days about starts, breakouts, flip turns, open turns and finishes. – Lotta in Bridgewater, NJ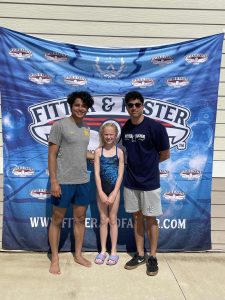 May 26th, 2022
We had Clark Smith as our clinician and he was phenomenal. We gave equal attention to everyone giving both feedback and praise. He encouraged questions and reviewed content making sure that everyone had an understanding. It definitely was a great experience that my daughter loved. – Leslie in Mexico, NY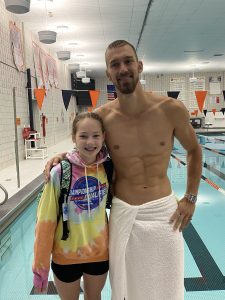 May 26th, 2022
Clark did an amazing job of explaining and demonstrating the skills expected of swimmers. My family/swimmers have attended many clinics and he is one of the best clinicians we have experienced.
Thank you so much! You were a great coach and the kids all had fun and learned so much!
May 18th, 2022
Our Coach John Shebat was and AMAZING Coach!! He was knowledgeable, patient and the kids all listened to him and learned so much. – Katy in La Grange, TX
Just a big Thank you for being very positive with kids!
May 18th, 2022
My daughter learned the proper technic and she loved that the strokes were broken down step by step. She now understands all the components of each stroke, especially breaststroke, mainly the line, head and timing. As a parent, I have learned a lot as well, about nutrition and how to deal with pressure. – Katarzyna in Fort Lauderdale, FL
Completely worth it!
May 17th, 2022
Great clinic-The clinicians did an excellent job making the swimmers feel comfortable and were both professional and kind. Avery swam for three years but just could not flip turn. The clinicians had her doing flip turns within an hour of the clinic! Avery was so excited to surprise her coaches at practice on Monday. We drove five hours from Des Moines to attend the clinic and it was completely worth it! – Rondine in McHenry, IL
My daughter came home so excited about what she learned.
May 17th, 2022
My daughter came home so excited about what she learned. She told me about specific drills and how she can work on her backstroke, and how much fun she had at the clinic. – Juliet in Roanoke, VA
May 17th, 2022
Norbert Szobo has great coaching skills. He demonstrates technique in an easy way for swimmers to easily understand. He breaks the clinic into separate technique/skill sets and provides the swimmers with useful feedback. Norbert is super friendly and great with the swimmers! – Michelle in Cumming, GA
May 17th, 2022
My girls, Ava (13) and Lana (10), enjoyed the clinic very much. After spending 3 days with Ali and Matt, they left the clinic feeling motivated and excited to put their enhanced skills to use in the water. – Rochester, NY