We want more camps!
October 20th, 2019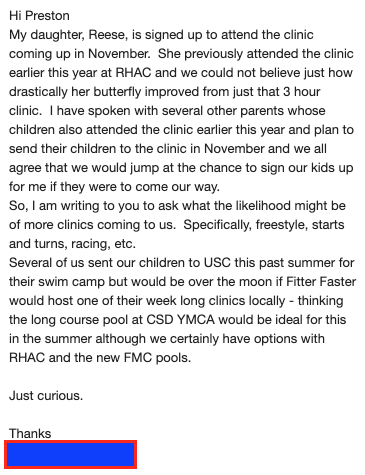 Heather Maloney – Atlanta
October 20th, 2019
Kim, Liam, and Luis were amazing at the Comprehensive Butterfly Racing Camp! They were organized, gave clear direction, and provided individual coaching and feedback to each child. They demonstrated skills in and out of the water and helped the kids understand how the drills would help them. We also appreciated how they shared their stories of both triumph and failure. They provided the kids, and parents, lots of learning moments! Can't say enough about how awesome Kim, Liam and Luis are! We appreciate you!
Erin Danielson – Fremont, OH
October 20th, 2019
My son attended the comprehensive butterfly & breast stroke clinics on September 21 & 22, with Kristy Kowal & Andrew Appleby. Both Kristy & Andrew connected with the kids and really explained the 'why' as they broke down the technical components of each of the strokes! The group size was small allowing for every swimmer to receive feedback.
We look forward to more clinics!
October 11th, 2019
Thank you to Lacey and Tiffany for a well run Freestyle clinic. Lacey brought a driven, positive, lets-get-to-work teaching style … giving lots of demonstrations, verbal direction, thoughtful corrections, and enthusiastic cheering from the pool deck. It was very helpful having an extra set of eyes, support and analysis from Tiffany as she was working in the water with the athletes and also gave demonstrations in the water. Racing Freestyle at the end of the clinic was the perfect way to put into practice what the athletes had just drilled and practiced on. We look forward to more clinic offerings in Oregon!
Portland, OR
Charlotte Gabriel
Oct. 11, 2019
Well worth the drive!
October 9th, 2019
To be greeted by the Olympians themselves & picture opportunities before the start of clinic was great!! Chloe and Tucker were so personable and related great with the swimmers! Thanks for being so personable with parents & swimmers. We felt welcome as soon as we walked in. Your time for Q&A and personal experiences is beneficial to swimmers of all ages & parents. Great quality camp that covered a lot in a timely fashion. Wish we could have done both days!! Well worth the drive!! Thank you for offering the camp in Wisconsin.
Manitowoc, WI
Michelle Kort
Oct. 9, 2019
Second swim camp!
October 7th, 2019
This is the second swim camp my son has attended, and he has loved them both! After the first camp I reached out to our swim club to see if they would bring the program to our school! I have nothing but positive things to say about every aspect of these clinics. Thank you for running such a great program to educate and encourage the next generation of swimmers!
Pittsburg, PA
Lindsey
Oct. 7, 2019
Brent and Nils were amazing!
October 7th, 2019
Brent and Nils were amazing with the kids. I loved how the focused on hard work and learning from failure. I loved watching them interact with our younger coaches and getting them excited to use the tips they learned to make out LSC club swimmers stronger! Both gentlemen were kind, inspiring and humble – perfect for role models for swimmers. I wish them the best in their future swimming endeavors and we will be rooting for them!
Sylvania, OH
Oct. 7, 2019
First Clinic!
October 2nd, 2019
Great job to Tyler Clary. Thanks for taking the time for individual attention to the swimmers who needed it. Tyler has a great personality and can get his tip across to a wide range of ages.
Potsdam, NY
Elisabeth Wultsch
Oct. 2, 2019
Small group sizes and detailed instruction
September 30th, 2019
My swimmer had an awesome time and learned a lot from the camp. We were super happy with the smaller group sizes and detailed instruction. Looking forward to the butterfly camp in a few weeks!
Cincinnati, OH
Sept. 30, 2019
Mr. Miyagi style!
September 30th, 2019
It's a Mr. Miyagi style session (the kids learn to paint the fence).
Each piece of the move being taught is broken down into the components. Each piece is explained and then practiced. Then at the end it is all put together.
Lots of real time feedback. In the pool advice and demonstrations. They rock! I seriously have not been around people with that much energy maybe ever! Such good command and control of the kids as well as the material.
Brookfield, CT
Sept. 30, 2019