The instructors were very attentive
June 22nd, 2021
My grandson Wyatt had a great two days. The instructors were very attentive. In particular, the male helped him a lot with his diving. On our way home he remarked that he was a good teacher. When I asked why he said, "Because he was very kind to me." Diving is not Wyatt's strength so that meant a lot to both of us. Thank you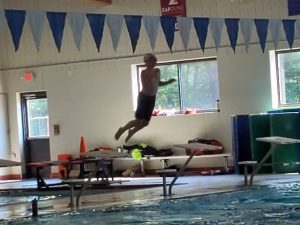 The clinicians made an impact on our son
June 22nd, 2021
Dolphin kicking as well as starts and turns.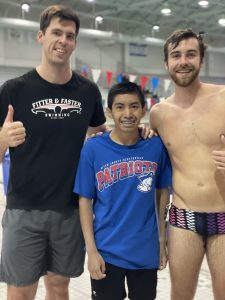 , he came home and made notes on what he learned, just as they asked him to. Joey & Chris interacted well and answered my son's questions afterwards 1 on 1. Very impressive young men….They did a good job in communicating with campers. Joey and Chris were very personable and made the kids comfortable. Really impressed with them answering my sons questions on dolphin kicking after the clinic and the time they spent with him.
Absolutely thrilled with the experience
June 22nd, 2021
My son came home from the camp absolutely thrilled with the experience- he dropped nearly a second off his 50 free that weekend. Having confidence in himself is a huge struggle usually, but he was so proud of himself for that.
My thanks to both of them – speaking as a coach myself, they're amazing teachers!!
Please come back soon!
June 22nd, 2021
The work on flip turns was outstanding. The drills were communicated clearly and the instructors were kind and concise. My swimmer soaked up every single bit of information and is practicing the new techniques daily!…..Thank you, THANK YOU! You both were wonderful and we are so grateful for all of the work you fit in an hour and a half. It was awesome for my swimmer to meet you and get advice and coaching from collegiate and Olympic swimmers! We hope you both come back to Nashville – we can't wait for the next clinic!!!
Individual help and evaluations
June 8th, 2021
The many different drills that were taught were easily understood and my daughter was able to perform them there and take them home with her to practice and improve her strokes.
This was the best and most informative fitter faster clinic she has attended. The clinic was small so each swimmer got individual help and evaluations. Coach Stickles was very encouraging and took time to answer all questions ranging from strokes to college swimming. We will attend any clinics he leads in the future.
I will recommend Fitter Faster to anyone interested in a swim clinic for their child
June 8th, 2021
Coach Coley was FANTASTIC, as was Ali Khalafalla. Coach Coley taught techniques for faster and more efficient freestyle. Coach Coley's direct and clear examples were perfect. My daughter was so impressed by the insights given and the assistance that Ali provided during the drills. Her experience was great and I will recommend Fitter Faster to anyone interested in a swim clinic for their child.
Engaged and captivated every second of the way!
June 8th, 2021
Olympic quality technique taught at a pre-teen level. Innovative drills and practice sets to help visualize important concepts. For five hours over two days, my daughter was engaged and captivated every second of the way.
Swimming with purpose and a healthy mindset
June 8th, 2021
Fitter and Faster is always a great opportunity for my swimmer to mentally reset. She is inspired by the clinicians! She always leaves Fitter and Faster clinics with great enthusiasm and confidence to use what she has learned back on her swim team. Swimmers spend so much time swimming laps, but after this Fitter and Faster clinic my daughter will be swimming with purpose and a healthy mindset.
My Son Really Enjoyed This Clinic!
June 8th, 2021
My swimmer felt he learned how to position and perform his starts a lot better and his underwater dolphin kicks. The drills used to help him were extremely helpful. The back leg up drill helped him realize he wasn't fully using his arms to fly off the blocks! Great job Elvis!! The 2nd day clinic helped my son with his turns and finishes. Overall, my son really enjoyed this clinic.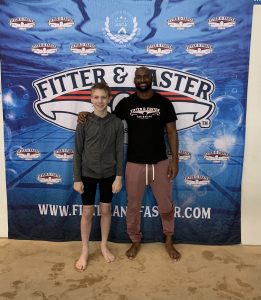 Best Investment for our Daughter's Swimming
April 28th, 2021
These swim clinics are one of the best investments we have made in our daughter's swimming. Several friends are amazed that our daughter is receiving advice and coaching from former Olympians.
-Palatine, IL