$date_and_audience_info = get_field( "date_and_audience_info" );?>
Are you a Swim Parent who wants to know what you can do to support your athlete
without becoming a "Stage Mom or Dad"?
We asked several parents of Olympians – and a few Olympians who are now parents
to share their "swim parenting philosophies" to maintain harmony at home and at
the pool. How can you help your swimmer establish goals and achieve them, while still enabling them to have a life beyond the pool?
Remember that you are the parent, not the coach. Bernadette and Eric Jaeger,
parents to 2012 Olympian Connor, were never swimmers themselves, so they made
a point of not volunteering technical or strategic advice. "We never tried to swim a
race for Connor," say Bernadette. "We never told him how many strokes to take or
how to out-swim his opponents or critiqued him afterward. We left that to him and
his coach. Even now, when Connor swims, our advice is limited to 'Go in this end,
come out at the other end and have fun while you're in there."
Don't compete unless you're the one wearing the suit and goggles. The Jaegers
recall being alarmed by stage parents when Connor and his sister Dana got involved
in club swimming. "They were hyping the sense of competition to the point where
the child was crying if they didn't swim some magical time," Eric says. "We are
examples of the extreme opposite of that. We never kept track of Connor's times at
all."
Bernadette chimes in: "We met parents along the way who knew what Connor's
times were and everybody else's. It blew my mind that they were following someone
else's kids. It seemed as though the parent was in competition with the other
swimmers!"
If you are your child's coach, leave the swimming talk on the pool deck. Like
several FFT clinicians, National Team member Michael Weiss is the child of swim
coaches, but praises his folks for doing "a really good job of separating the parent
from the coach." Rule Number One? "We weren't allowed to talk about swimming at
home. If we were going to talk about my swimming, we handled it at the pool. As
soon as we got in the car, they were my parents again."
Don't set Olympic-level expectations for your kid, even if you're an Olympian.
"Initially, my parents just wanted me to be involved in some sport and to make a
commitment for an entire season," says second-generation swimming Olympian
Gary Hall Jr., of his initial foray into year-round swimming. "Once I started
developing friends on the team and didn't dread going to practice every day, then
their message became "have fun." And that message stayed the same from high
school meets, when I wasn't very good, right up to the finals at the Olympic Games."
Now Hall has inherited the same laid-back approach to his own son and daughter's
participation in sports. "As a parent, I'm just here to be a cheerleader," he explains.
"I'm going to give them the option to participate in every single sport. I want them to
try everything. Later on, they can specialize. Ultimately, I'd love to see them choose
swimming, but I can't make that choice for them. I'll just be supportive."
Let your kid have a life outside of the pool. Three-time Olympian Matt Biondi,
who is now a coach and a swimming parent, allows his athletes the freedom to
pursue their other passions, even if it means missing a day of practice. "I have one
swimmer who's played the violin since she was five and another who dances. Just
come up with a schedule and keep their coach in the loop."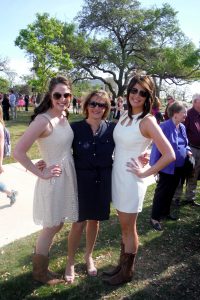 Lisa Adams, mom to 2012 Olympian Cammile and her twin sister (and her Texas A&M teammate) Ashley, did her best to make sure her daughters had a balanced life.
"They have to take a day off. Especially after a hard meet, they need that downtime to just go out and be a kid."
She cites this philosophy as the reason Cammile and Ashley didn't burn out. "The less stressed kids are, the better they perform," she says.
You can't want success more than your kid does. "If you have more invested in the race than your child, then every race is going to be torture," says Bernadette Jaeger. "Believe me, if your kid is a distance swimmer, it's already a torturous 15-minute mile without wondering if it's a personal best time."
The Jaegers recall watching Connor struggle during his freshman year at Michigan,
but they didn't interject. "At the Big 10 conference meet, he felt like he let the team
down and he never wanted to feel like that again," Eric says. "By his own admission,
he didn't perform to the standards he set for himself. The Michigan coaching staff
has a saying: 'Don't live in the problem. Live in the solution.' So he stayed in Ann
Arbor the following summer and that made all the difference. What came out of that
poor performance freshman year was a very dedicated and driven young man."
Bernadette adds, "After sophomore year, he went to Trials and then to the Olympics.
It all comes down to how much the swimmer wants it."
Learn how to diffuse swimming sibling rivalries. "Parents have to realize that
each child is different and where one is better at something, the other is better at
another skill," Adams says. "Both their dad and I tried to put their strengths in front of them first. We always encouraged the girls to be happy for each other and to cheer for each other and want the best for their teammates."
Appreciate the fringe benefits of being a swim parent. "We had no idea how
wonderful swimming could be for young kids," recalls Bernadette Jaeger. "We didn't
realize what value the sport would add to their lives, in terms of discipline and a
sense of responsibility. Because swimming required them to be at practice early on
Saturdays, it removed certain pitfalls they might have gotten into on Friday nights. It
gave Connor and his sister, who was four years older, a common language and a way
to bond. It gave them friends outside of their own high school and it taught them
how to be around people of the opposite sex. Swimming expanded their world
before they even realized it."
Over the years, at the request of teams throughout the United States, Fitter and
Faster Swim Tour developed seminars that are designed especially for the parents
of participating athletes at our clinics. These sessions have been led by the parents
of Olympians and National Team members including the parents of Olympians Peter
Vanderkaay, Kara Lynn Joyce, Claire Donahue, Christine Magnuson and several
others. If you are planning a clinic or camp with Fitter and Faster, please let us
know if you are interested in having a seminar for parents.