$date_and_audience_info = get_field( "date_and_audience_info" );?>
Coach Tom Himes Receives Top  Award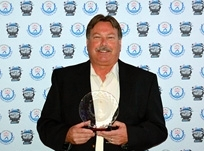 On Thursday September 10, 2015, Tom Himes, Head Age Group Coach of North Baltimore Aquatic Club, was presented with the second annual Fitter & Faster Swim Tour, American Swimming Coaches Association Age Group Coach of the Year Award by Olympic Legend Matt Biondi, 3-time Olympian Kara Lynn Joyce and Fitter and Faster Founder David Arluck.
The night honored 10 finalists who were originally nominated using USA Swimming's Virtual Club Championship team rank. The public then selected the finalists through popular vote in an online poll.
Congratulations to the following ten finalists:
Tom Himes, North Baltimore Aquatic Club
Chris Natoli, Nation's Capital Swim Club
Keith Ure, King Aquatic Club
Dave Greene, Rockville Montgomery
Luba Pohilenco, Santa Clara Swim Club
Ginny Nussbaum, Long Island Aquatics
Raz Cuparencu, TACTitans
Jack Maddan, Cypress Fairbanks Swim Club
Bruce Smith, Palo Alto Stanford Aquatics
Kyle Myers, Marlins of Raleigh
The Makings of a Great Coach
Arluck says, "This award recognizes the grassroots level of American swimming, an essential piece of the puzzle for building strong National teams and keeping swimmers in our great sport. Age-Group Swimming is the sport's foundation."
With Coach Himes' year round career starting in 1979, Fall of 2015 marks his 37th year of coaching. 23 of those years have been spent as the Head Age Group Coach of the North Baltimore Aquatic Club.
During his career, Himes has had the opportunity to work with every level of the sport: teaching lessons, working with age-groupers and coaching Divison I college swimmers.  When asked about his passion for coaching age-group level athletes, Himes points to the opportunity to impact young swimmers. For Coach Himes, it isn't about just teaching his swimmers how to swim up and down the pool. He likes to look at the bigger picture and at the person as a whole.
Himes says, "I like being able to mold them…not only into good swimmers, but into good people." At North Baltimore Aquatic Club, Coach Himes oversees approximately 140 swimmers who are 13 and younger and directly coaches two of the seven groups in the NBAC Age Group Division. Even though Himes is a seasoned veteran of the sport, he finds daily excitement in working with young people who are just learning about swimming and about life. Himes explains, "They're usually full of energy and I'm trying to direct that energy into the right direction both in and out of the pool."
Work Hard, Play Hard
Although Coach Himes' coaching style is tough and direct, he also places high importance on honesty and having fun with the sport. He explains, "I try to push these kids as hard as I can mentally and physically, but keep a smile on their faces." It can be tough to see a kid disappointed after a swim, but Himes sees it as an opportunity for honest feedback:  "If they haven't done well, I tell them they haven't done well and why. The hope is that they will learn from that…I consider that positive coaching because you're giving them something to learn."
Himes' swimmers don't just go through the motions. He teaches them to be focused on their goals. His focus as a coach is "Getting them to think about what they're there for. They're all there to get better. There isn't a kid who swims who doesn't want to get better." Although every swimmer is there to improve, they also want to have fun while doing it. Himes believes that it is the coach's job to instill that fun in some way. This doesn't mean they play games. It's about teaching them to enjoy the process of improvement. Himes explains, "Our kids come to practice because they want to come to practice. They have a good time. They come to work, but you gotta do funky little things to make it sound exciting. Swimming hard and thinking about swimming is a lot of fun."
Himes believes that good coaching happens when you take the time to develop a positive relationship with each swimmer. He says, "Swimming is a team sport, but coaching needs to be individualized." Every swimmer needs something different, and a good coach is in tune to that.  He explains that it's easier to get them mentally prepared if you know where they're coming from. When it comes to mental toughness, Coach Himes is always one step ahead of his swimmers. He tells them to "Show the confidence in yourself that I already show in you." They have to learn to believe in themselves in order to be successful.
In the Record Books
Coach Himes certainly knows what it means to be successful. He has coached his swimmers to over 480 National Top 10 and Top 16 rankings, including an impressive 81 rankings at number one and 37 National Age Group records. His swimmers have set over 390 LSC records. His former swimmers include Olympic Gold Medalists Michael Phelps and Beth Botsford. Although Himes is very proud of all these accomplishments, he feels the biggest sense of accomplishment seeing one of his swimmers improve, become dedicated and go on to swim in college.
Advice to Coaches
Himes advises new coaches just starting out to have patience. "Keep to your mission." It's important not to get overly excited when a young swimmer is very fast or if they're struggling. He says "It's about preparing them so that when they advance to the senior level of swimming, they're ready to go. He explains that a good prospective swim coach understands the fundamentals of the sport:  "I think it's important to start at the grass-roots. I look for someone who has taught lessons because that's what we are doing. The best coaches are good teachers."
This award has special meaning to Coach Himes. He looked at the impressive list of coaches and was thrilled to be nominated and even more honored to have won.  He sees the award as one for the entire North Baltimore Aquatic Club: "I take it as an honor for our entire coaching staff." He believes the award speaks to the longevity of the club's accomplishments.
As for what's next for Coach Himes? The journey in coaching is never over. "I'm still learning what I'm doing. There's always something new out there."