$date_and_audience_info = get_field( "date_and_audience_info" );?>
The Individual Medley: Fly, Back, Breast, and Free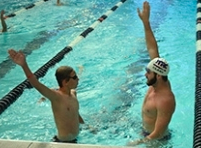 The Fitter and Faster Swim Tour Presented by SwimOutlet.com's ELITE IM RACING AND TRANSITIONS CAMP with Olympian Tyler Clary, American Record Holder David Nolan and US National Team Member Felicia Lee has been your opportunity in the past to work with some of the best IMers in the world to improve your IM race!
Arguably one of the most difficult events in swimming, the individual medley is just as technically demanding as it is grueling. It requires mastery in all four strokes, proficient transitions and mental strategy. If you have a weakness, it will be exposed.
Work on Your Weakest Link
Most swimmers know the feeling of frustration as a competitor pulls away during a weaker leg or transition such as backstroke to breaststroke. Felicia Lee recommends turning your frustration into triumph by viewing it as a chance to improve: "Look at your weakness as an opportunity to get faster…you can make the most changes to your weakest stroke."
Make sure you address your weaknesses every day. David Nolan explained that you shouldn't always take the easy way out when you're given choice stroke sets in practice. He suggests spending as much time as possible on your weak stroke. Nolan explained, "The way I fixed my breaststroke was doing a lot of kick sets with just breaststroke kick and really honing down on my technique and forcing myself to do breaststroke."
Take Advantage of Your Strengths
Successful IM swimmers also have to learn how to take advantage of their strengths. This requires some mental strategy because you want to push hard, but you can't completely run out of gas. Nolan encourages swimmers to build each stroke to maintain speed and efficiency.
On top of precise stroke technique, pacing and strategy, IMers have to worry about executing a legal and fast transition. Anyone who has been to any level meet – from local dual meets all the way to Olympic Trials – knows that the officials' hands start going up a lot more during the IM walls. Nolan emphasizes that, "When you're nearing a wall, you need to learn exactly what to do to put yourself in the best position to make the fastest, legal transition.
Practice, Practice, Practice
The IM isn't considered the decathlon of swimming for nothing. It's highly technical and just like every component of sports, it requires thought and practice. As Tyler Clary explained, "I like being an IMer because…the most well-rounded swimmer wins. It requires you to be excellent at everything."
Sign up for the to take advantage of an opportunity to learn IM transitions and breakouts from some of the best IMers in the world!
Check out our full list of clinics coming up this year by clicking HERE