$date_and_audience_info = get_field( "date_and_audience_info" );?>
By: Fitter and Faster Staff
The Value of Attending Multiple Clinics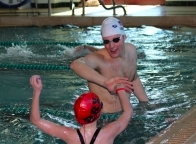 Swimmers throughout the United States are attending multiple swim clinics annually.  We had the opportunity to catch up with "Swim Mom" Aimee Milligan from Media, PA to learn more about why her family has attended SIX Fitter and Faster Swim Tour clinics Presented by SwimOutlet.com.  The Milligan family enjoyed the clinics so much, that they were influential in helping to secure and host TWO clinics for their community!
When you have a minute, scroll through the clips below to learn about the differentiating factors between each clinic we produce.  There is even a nice clip in which Aimee discusses how FFT makes it easy financially and from a promotional perspective for teams to host a clinic.  We are very proud of the impact FFT has had on swim communities throughout the USA.
DIFFERENT CLINICS – DIFFERENT CLINICIANS

Aimee discusses the unique traits of each clinic, the clinicians and how this has kept them coming back for so long.
https://vimeo.com/96707189
THE FFT ADVANTAGE
Watch the clip below to hear how FFT "turn-key" solution makes it easy for teams to host a clinic and for clinicians to do what they do well.
https://vimeo.com/96707190
INSPIRATION OR EDUCATIONAL
Aimee discusses the experience that her daughter has walked away with.
https://vimeo.com/96707194
MOTIVATION TO ATTEND FFT CLINICS
Aimee discusses what motivated her to attend her to sign her daughter up for their first FFT clinic.
https://vimeo.com/96707195
FINANCIALS AND PROMOTIONS
David and Aimee discuss how they made an FFT clinic possible for the local YMCA in Media, PA.
https://vimeo.com/96707192
PARENTS HELP MAKE FFT CLINICS HAPPEN
Hear from Aimee how she made hosting a clinic a reality.
https://vimeo.com/96707833
---
If you want to make a Fitter and Faster Swim Tour Clinic near you a reality please contact: (786) 837-8661 or book online HERE