$date_and_audience_info = get_field( "date_and_audience_info" );?>
About the Author: Stephanie M. Wildman is the mother of '08 Olympian Ben Wildman-Tobriner and Starfish Aquatics founder and coach, Becky Wildman-Tobriner.
---
Being "Good" Swim Parents
Like many families, we would gather to watch the Summer Olympics together. In the summer of 1992, Becky was almost twelve and Ben about eight. The broadcast featured one of the bio-sketches of athlete's parents, a tearful mom and beaming father, explaining how it had always been their dream to have their daughter on the U.S. Olympic team.
When it was finished, I quietly asked both of my children, "What was wrong with that story?" They knew. One of them said, "It was the parents' dream – not the kid's." I nodded.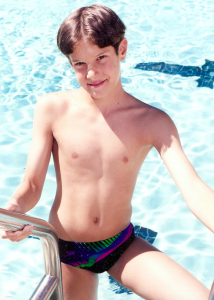 Both of my children grew up as competitive swimmers. When they started swimming, people said, "You're lucky, because swimmers live healthy lives." It made me appreciate the benefits of the sport for their well-being. Both kids swam because they wanted to do it. "Just have fun," was our frequent pre-race advice.
Becky loved swimming, but she preferred helping others rather than racing against them. So it makes sense that she became a coach. Ben really swam because of his sister. After all, we were going to be at the swim practice for several hours, so it made sense to put him in the water, too. Both kids were great swimmers, but many coaches told us that Ben had a gift. He loved to race once he got over his fear (at age six) of the starting gun (yes, they used to use a gun, not a Colorado timing system).
In those early years, I think Ben raced just to annoy his sister because he was fast. He really didn't learn that practice makes you better until he tried basketball. A lot of swim coaches used to ask, "Where was Ben? Why wasn't he swimming?" and I would reply, "because he's a little boy, and he wants to play basketball or baseball or soccer" – whatever his friends were doing. He swam in the summer, which seemed like just enough time in the water for him to stay involved. And Becky continued to swim, moving to year-round competition at age twelve. So interest in the sport continued for the family. And Ben learned valuable lessons from competing in other activities.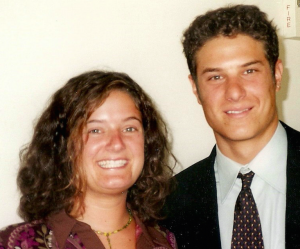 Parents sometimes ask me, "How did you do it?" – a son with an Olympic gold medal and a daughter who created a "Learn to Swim program" for inner-city kids. The answer is: "I didn't – they did it." Becky and Ben have paid us the supreme compliment, saying we were good swim parents. But we performed that role by understanding that we were neither coaches nor swimmers. Coaches have a hard job to do; they know more about teaching swimming than we did, and we wanted to let them be the coach.
We always cheered though, and said "good job" after every race. Their dad, Michael, timed at meets, and I did stints at the summer league computer. And we packed endless snacks and lugged sleeping bags and supplies. The kids always knew we were there for them, and we always said "good job" – win, lose, or DQ. So support your swimmer, be encouraging, and smile.
The sport offers endless possibilities for families who focus on having fun.