Congratulations to Coach Rob Norman of the TAC Titans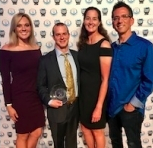 The winner of the 2017 Age Group Coach of the Year was named at the ASCA Awards Banquet in Washington, D.C. Congratulations to Rob Norman of the TAC Titans in Cary, NC. Coach Norman was presented the prestigious award by two-time Olympian Chloe Sutton and David Arluck, founder of Fitter and Faster.
Our previous voting record, set last year was 12,821 total votes. This year we CRUSHED it with over 60,000 votes! 
The final 10 are listed below in alphabetical order:
Mark Bennett: Clovis Swim Club / CC
Sue Chen: Nations Capital Swim Club / PV
Tommy Cunningham: King Aquatics / PN
Carle Fierro: Westchester Swim Club / MR
Rob Hansen: Irvine Novaquatics / CA
Nancy Hooper: Tidal Waves Swim Club / IL
Jim Johnson: Brea Aquatics / CA
Kate Lundsten: AguaJets Swim Club / MN
Rob Norman: TAC Titans / NC
Matt Pelletier: The Fish / PV
ASCA and Fitter and Faster are also pleased to congratulate the Top 10 coaches with the MOST VOTES ONLINE. Being in this group is a testament to these clubs', athletes', families', friends, and fans' support of these coaches; as well as their ability to engage their community for the fine job these coaches do for them.
Top 10 On-Line Poll Vote Getters – Alphabetical order 
Mohamed Abdelaal: Scarlet Aquatic / NJ
Blake Addison: TAC Titans / NC
Mark Bennett: Clovis Swim Club / CC
Tara Bolivar: Suburban Seahwaks Club / MA
Kyle Bubolz: Chicago Wolfpack Aquatic Club / IL
Nadine Harriott: Swim Florida / FL
Hector Jimenez: Rose Bowl Aquatics / CA
Jarrod Murphy: The Woodlands Swim Team / GU
Rob Norman: TAC Titans / NC
Richard Schoulberg: Plymouth Whitemarsh Aquatics / MA
Congratulations to all the finalists and everyone who was on the ballot. Fitter and Faster is so proud to sponsor this award.