$date_and_audience_info = get_field( "date_and_audience_info" );?>
The Fitter & Faster Swim Tour Presented by SwimOutlet. com. is the proud sponsor of the Age Group Coach of the Year award. 
---
Company founder and CEO David Arluck explains: "We believe that the award recognizes the grassroots level of American swimming, an essential piece of the puzzle for why America has been the world's dominant swimming superpower for over a century. By presenting this award at the ASCA World Clinic, we are uniting the Olympic, World Championship and national-level success of the Coach of the Year Award with the significant achievement of Age Group Coach of the Year Award. This is a natural step form what we do every day in our Fitter & Faster Tour clinics, where we unite international-level athletes with those who comprise the foundation of the sport: age-group swimmers."
---
Congratulations to Beth Winkowski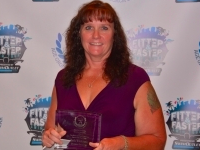 On Friday September 12, 2014, Dynamo Swim Club Associate Head Coach Beth Winkowski, 44, was presented with the inaugural Fitter & Faster Swim Tour/American Swimming Coaches Association Age Group Coach of the Year Award by Fitter & Faster founder David Arluck.
Chosen from a field of 10 finalists, Winkowski epitomizes what it means to be an age-group coach, cultivating swimming talent at every level, keeping swimmers in the sport, mentoring new coaches and laying the foundation for her athletes to succeed at the collegiate, national and international level.
Beth Winkowski's previous (and dry) career as an environmental lawyer taught her two important lessons. The first: "I didn't want to live my life looking at my watch, wondering when I could leave." The second: "Rather than spend a lot of time fixing things after the fact, I wanted to do them right the first time."
Nearly two decades into her second career, she is much happier racing the clock, spending her days grooming young swimmers and coaches at the Chamblee location of Georgia's prestigious Dynamo Swim Club and being a mom to Ceara, 11.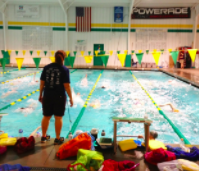 Winkowski, who has been at Dynamo since 2004, is responsible for a senior squad of sectional and junior national qualifiers as well as preparing 13 and 14-year olds to join the team's senior ranks.
Kaleigh McGrady, one of the swimmers who nominated Winkowski, highlighted her "highly successful track record for preparing her age-group swimmers to compete at the national level as seniors."
A sampling of Winkowski's results with Dynamo in 2014:
Two of her swimmers placed among USA Swimming's All-Time Top 100 age group rankings
Four achieved USA Swimming top-10 times over both the short and long-course seasons
Six swimmers won individual LSC championship titles
Team placed second at both short-course and long-course LSC championships
Winkowski, who says one of her proudest moments as a coach was helping a swimmer become the first in her family to attend college, prepares all of her athletes for university life regardless of their recruiting status.
"I ask my swimmers, 'How do you want to leave Dynamo? How do you want to remember it? No one remembers your times or what meets you qualified for. People are going to remember you for who you are."
****
What's the appeal of working with age-group swimmers? "By the time swimmers get to college, they're pretty much fully formed. I like to get my fingers in the clay and help form who they're going to be," Winkowski says.
She leaves no stone unturned when it comes to improving her swimmers' habits in and out of the pool, Dynamo assistant coach Cecelia Tripp noted during the nomination process. This includes bringing in a master coach to help swimmers and coaches with underwater development and organizing a clinic led by Olympian Ryan Lochte.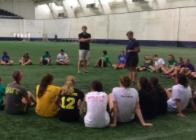 "Dynamo loves to plan travel trips every summer and Beth takes a very active role," Tripp adds, citing this summer's 4-day camp at the U.S. Naval Academy that included training sessions, technique sessions, motivational speakers and team-bonding activities. "The swimmers have not stopped discussing all that they learned or the great memories made during that trip," she says.
Not that Winkowski actually needs to import motivational speakers, says Tripp: "She always has a motivational speech to give our swimmers at finals that seems to fire them up to exceed their own expectations."
Her motivational skills do not stop at the water's edge or the age of 18. She is known to break a sweat alongside her athletes, competing in open-water races and community runs. She's also active in mentoring the team's junior coaches, some of whom swam under her as age-groupers.
What makes someone a good coaching prospect? "We're looking for individuals who are energetic and have people skills. It has to be someone who likes kids and parents. It can't be one or the other. We can teach the technical stuff if they have those qualities."
"We teach every aspect of coaching," she says of the Dynamo pipeline, adding that, "To be great, you have to understand the administrative side. By the time they move on, they're ready because they know a lot about the business of swimming."
Early in her career, Winkowski taught herself by "sitting near a different coach at every meet, listening to how they talked to their athletes." She also made a rule of picking out three takeaway lessons from coaching conferences so that she wouldn't feel paralyzed by all the technical information being thrown around.
What would she tell someone who is interested in coaching but daunted by the time commitments? "I'm a single mom. If I can do it, anyone can do it."
Watch the full ASCA Fitter and Faster Age Group Coach of the Year Presentation Below
Look for interviews with these other finalists over the next few months on FitterandFaster.com
| | |
| --- | --- |
| Finalist | Team |
| Allison Brol | Piedmont Swim Team |
| Heather Fort | WAVES Bloomington-Normal YMCA |
| Tom Himes | North Baltimore Aquatic Club |
| Robert Jenkyns | Lake Country Phoenix Swim Club |
| Jackson Leonard | Gator Swim Club |
| Rosemarie Lockie | Comets Swim Club |
| Matt Pelletier | The FISH |
| Doug Wharam | Nashville Aquatic Club |
Do you have what it takes to contend for Age Group Coach of the Year?
Here are the criteria considered by the ASCA Age Group Coach of the Year committee:
Virtual Club Championship rankings per athlete, thus recognizing smaller clubs that punch above their weight class
Year-over-year improvements in Virtual Club Championship scoring
National age group records
Top 100 all-time rankings
Athlete retention rates