This could have been the worst year in Fitter and Faster's eleven year history.
Actually, let me rephrase that: "2020 could have been the end of Fitter and Faster".
We are an events company… and "events" aren't exactly in vogue during the pandemic.
Thankfully, we weren't knocked out. In fact, we learned how to produce even more effective and a broader range of learning experiences for competitive swimmers of all levels. Over the past several months I have expressed my thanks to the many people who put their trust in our company and me. However, being that it's Thanksgiving, I wanted to take this opportunity to express my gratitude to many people: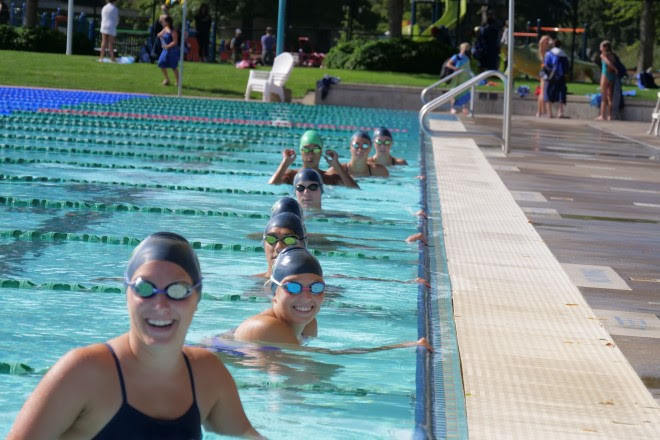 Swim Parents:
Thank you for putting your trust in Fitter and Faster to not only provide a fun learning experience that will help your children improve, but for trusting that we will provide a safe atmosphere for them.  Thank you for completing the surveys after each swim camp so that we can learn from camp to camp and continuously improve what we do.
Facilities (Facility managers/Aquatics Directors):
From the bottom of my heart – thank you for allowing us to produce our camps at your facilities all across the United States.  We are fortunate to have produced camps at more than 100 venues since the beginning of the pandemic. Never before has getting permission to produce camps been this challenging.  However, I understand and appreciate the scrutiny that you put us and all of your other occupants through. It is so important for us and everyone else in the swimming community to maintain a safe environment. Many of the most visible venues across America – from coast to coast have welcomed us to their facilities multiple times during the pandemic. Many of those facilities have sent us testimonials about the exceptional, safe environments that we have at our camps.
My day-to-day teammates:
I want to thank my day-to-day teammates for putting their trust in me and each other at the beginning of the pandemic.  Chloe Sutton, Brett Hawke, Patty Barker, David Kostkowski, Tyler Clary, Susie Weisman, Tim Hochradel, Karen Heinz, Marina Spadoni, Mike Murray. It was frightening to all of a sudden lose 100% of the company's revenue for a three month period. However, we didn't spend much time worrying about the odds stacked against us. Instead, our FFT team learned as much as we could about Covid, how it spreads and how to create safe learning experiences for the swimming community.
Together we built a plan to orchestrate safe camps once local governments would allow us to proceed again. That plan worked out real well as we have produced more than 150 camps with more than 600 sessions in 40 states since the beginning of June.  Each camp has much smaller session sizes, Covid safety protocols and very well thought out curriculums.  As a matter of fact during the pandemic we developed several new in-person curriculums that have been extremely valuable to competitive swimmers especially the Race Strategy Camps. We have also seen a drastic improvement among the participants because of the smaller session sizes. This is something that we will continue even after the pandemic.  We would much prefer to visit locations throughout the USA more often and produce more sessions than to have too many swimmers in a session.  Also, during the spring, Fitter and Faster was the first in the swimming industry to produce live online courses. Our online stroke technique, fitness and yoga classes were a huge hit. We will be launching new online classes within the next month and post pandemic as well!
The clinicians: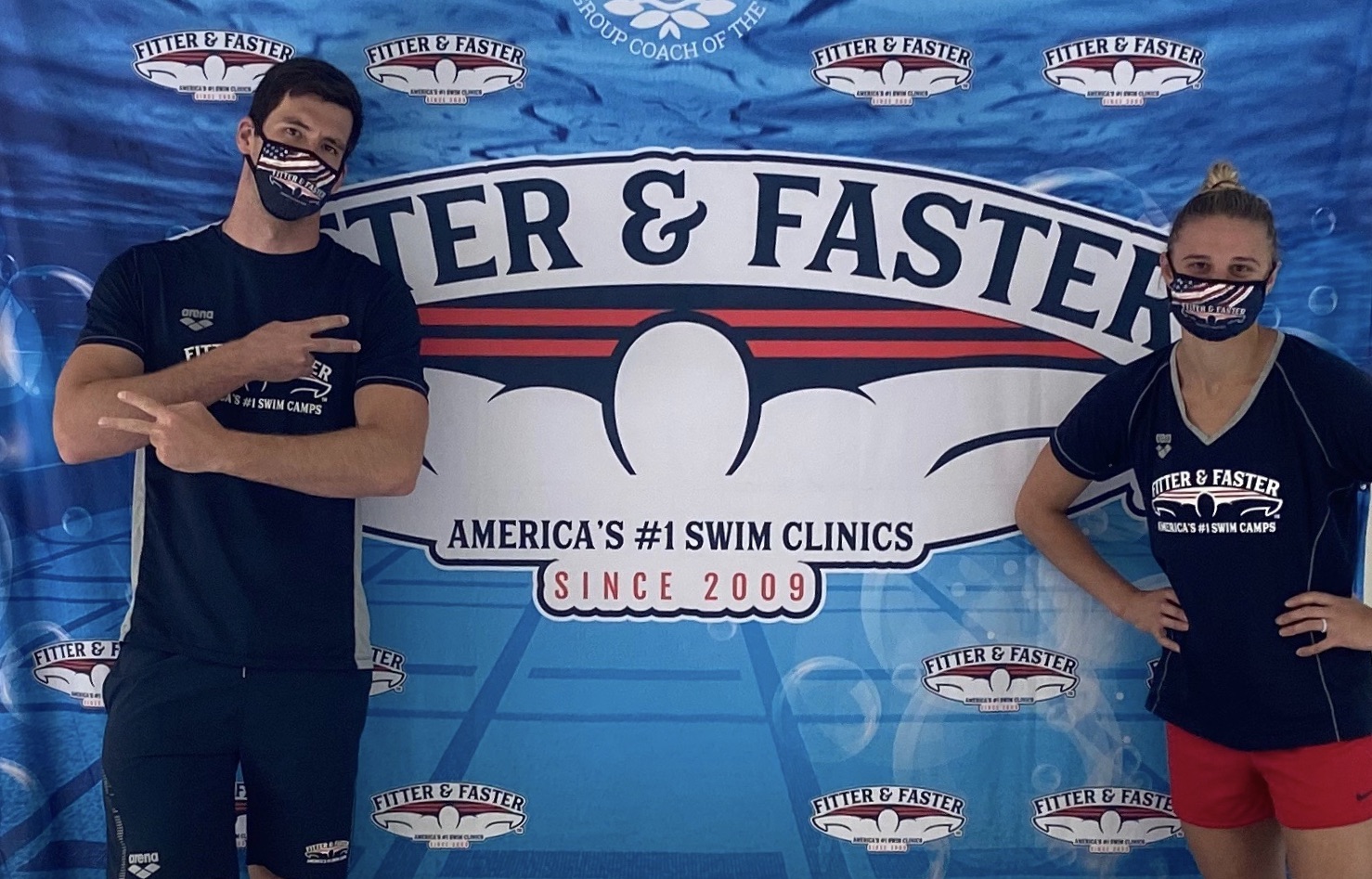 It has long been said in professional sports that oftentimes the best competitors don't make the best teachers.  Over the years, I have met many Olympic medalists who are so impressive in the pool, are nice conversationalists, but don't "connect" at the level necessary to be an effective teacher. Brett Hawke has done such a great job finding those special talents who have the highest level of ability in the pool while also having the skills and desire to lead a strong swim camp.  I am so appreciative of every clinician on our roster who has taken their responsibility to teach at the highest level seriously and for following the Covid protocols and adjusting your methods to this new environment.
Swim Teams & Coaches:
Thank you to the thousands of swim teams and coaches all across America who encourage their swimmers to attend Fitter and Faster Swim Camps.  We learn so much from you about the strengths and weaknesses of all your swimmers at all levels.  Our discussions help us customize our camps so that we can serve the entire swimming community at the highest level.  Over the past six months I have spoken personally with more than 500 coaches throughout the United States and from around the world. I've exchanged emails many more than that. My conversations and correspondence with each one of you is so valuable because with each talk we have, I learn something new not only about swimming, but how you are overcoming obstacles and making your way through. You help me learn how to approach the challenges I face and I am much more effective because of it.
My heart aches for the teams and coaches who are not able to operate right now.  I have spoken to many over the course of the last several months.  Please continue to hang in there. This crazy time we are in will be behind us soon enough.
The pandemic has been tough on everyone in one way or another.  For some, it has been much more tough than on others. People have lost their jobs, their companies, and even their loved ones and lives. Every single day I wake up grateful for Fitter and Faster, my family and all the people who put their trust in Fitter and Faster. Thank you for being with us during this difficult time.
Thank you also to all of the business leaders and industry experts who have come on the various webcasts we have produced since the beginning of the year to share knowledge on the sport and information on how you are overcoming obstacles during this uniquely challenging time.
Personally, I'm doing as well as I could be.  Thankfully, nobody I'm closely related to has gotten sick or lost their jobs – which I know is not the circumstance for many people.  So, considering that – I feel extremely fortunate. For my wife and I, the biggest disappointment has been not being able to see our parents. Our parents are in their seventies and do not live nearby. So, we decided not to see each other until everyone is vaccinated. So, there are a lot of Facetime calls and Zooms. There have been many days during the pandemic when it would have been really nice to see our parents and siblings.  On the bright-side, we've had just about every meal together as a family and a lot more stay at home activities. An extra perk is that my wife Jessica and my son Alex also make for good focus group members.
My hope this Thanksgiving is for every single person reading this to have someone in their life who sincerely wants to see you succeed, is of high moral character, asks all the right questions to make you think and takes the time to be objective with you. For me, that person has always been my best friend and closest confidant, my Uncle Michael… and I'm eternally grateful to him.
I hope that today on Thanksgiving you can put your challenges aside and enjoy the day. No matter what is going on in your lives, I hope that you are doing as "good" as you can be.
Please know that I'm thankful for you. Truly, from the bottom of my heart, thank you for turning what could have been a terrible year for Fitter and Faster into a year that has been very meaningful and enabled us to take our game to another level.
Sincerely,
David