$date_and_audience_info = get_field( "date_and_audience_info" );?>
Dedicate Yourself to the Fundamentals
Dedicate yourself to the fundamentals–the times will come. It is no secret that the best swimmers in the world also have the best technique.  When you watch these athletes on TV, it seems as if they are moving effortlessly through the water with no flaws in their stroke.  Yes, it is true these athletes are incredibly talented and work very hard. However, what you should know is they set themselves up for success.  What separates these athletes from the competition is their continued dedication to mastering the fundamental skills that were first taught to them as age group swimmers.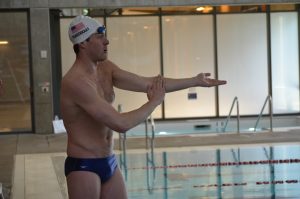 Have an Inquiring Attitude
The best swimmers in the world are immensely inquisitive.  They are constantly looking for opportunities to learn by watching countless videos of other swimmers and speaking with many coaches and swimmers.  They are always looking to be more efficient and powerful in the water.
In a Swimswam.com interview with Bob Bowman (coach of Michael Phelps), Bowman was asked: "What is your advice to a young swimmer, who wants to grow up to become a professional swimmer?" Bowman's response was very simple: "Technique is the key to success.  Everything starts with technique."
Swimmers should be focusing on mastering the fundamental skills that their coaches are teaching before turning their focus towards "time."  According to Bowman, "Once they have learned the best technique, then we can start focusing on conditioning and goal-setting.  But it has to start with technique."
Did you know that most members of every American Olympic swimming team were never National Age Group record-holders?  Many didn't begin to show signs of elite-level racing ability until they were in the 17&18 age group or college.  At the age group level, these athletes remained dedicated to learning perfect technique and making it as close to second nature as possible.
Words of Advice From the Best
 David Marsh has coached 47 Olympians from 19 different countries.  He was the former CEO/Director of Coaching at SwimMAC Carolina in Charlotte, N.C. Prior to joining SwimMAC he was the men's and women's swimming coach at Auburn University and won 12 NCAA Division 1 titles. To date, Marsh has led SwimMAC to three consecutive USA club excellence championships.
Marsh says, "Swimming is a multifaceted skill that, when performed best in meets, is natural, powerful, and in harmony with the water. The swimmer's brain is operating at the subconscious level.  However, to get to the point of mastery where the highest level stroke skills can be explored and ultimately acquired, it takes years to hone." Marsh continues, "All drills should have a specific purpose. Drilling gives an athlete the opportunity to focus on one aspect of their total stroke."
Maintaining Stroke Count
There are many aspects of technique that a swimmer can focus on to improve their swimming. While you may be aware that the best swimmers in the world have near-perfect technique, did you know that most also take fewer strokes per length?  As technique breaks down during a race, most swimmers rely on taking more strokes to go faster.  However, the top-level athletes are able to maintain perfect technique and a consistent stroke count throughout the entire race.
The ability to know what your stroke count should be per length is a great way to measure if you are maintaining the best technique possible, especially when you are getting tired. So how do we teach this skill to young swimmers?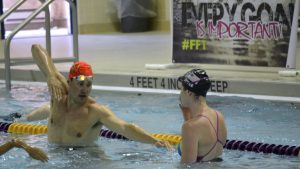 Ash Milad, former co-head coach of KING Aquatics in Seattle, Washington was the 2013 ASCA Age Group Coach of the Year for the Pacific Northwest Swimming LSC. Milad has introduced a skill called "Stroke Count and Fast" that has helped him teach swimmers how to hold their best technique while maintaining their speed – all while receiving great quantifiable feedback on whether their technique is falling apart.
"The easiest way, in my opinion, is to teach swimmers to keep a lower stroke count while still holding their goal training times.  The idea is to make sure they achieve their goal time in practice AND sustain that speed for multiple repeats, all while having the best technique possible, " Coach Milad says.
For example, if a swimmer has a goal time of 2:06 in the 200 yard breaststroke, Milad wants that swimmer to be able to repeat five or six 50's from a push in practice under 31.5 seconds or faster while holding perfect technique and stroke count.
For a male teenage swimmer, Milad would expect him to be able to hold five strokes per length along with perfect technique while swimming faster than his goal pace. If the swimmer is able to hold a specific time while maintaining good technique and a low stroke count, he knows that they will be able to maintain this speed at the end of a race.  If they are holding a time but taking a flurry of strokes and not thinking about swimming with perfect technique, that's a good indication that the athlete will not be able to maintain his speed in a race for very long.
Putting it all Together
The ability to train with good technique and hold a low stroke count naturally force a swimmer to pay attention to important fundamental skills, such as:
Long and tight streamlines off each wall
Maximizing underwater kicks and breakouts-outs
Distance per stroke and using a strong kick
Carrying speed in and out of the turns and into the finish
Hitting your stroke count on every length
Perhaps the most important aspect of "Stroke Count and Fast" is that it begins to teach young athletes that there is more to swimming than just "times."  Going fast times is always exciting, but each swimmer must be using the best technique possible to achieve those times.
Self-Evaluation of Technique
So the next time you are doing a hard set, instead of using "time" as the only metric, you can now ask yourself, "how fast did I go AND how many strokes did I take?"  This will give you some great feedback as to whether or not you are maintaining good technique during your practices by staying engaged.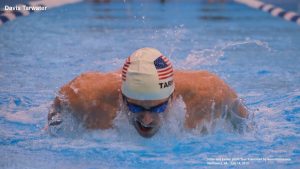 Marsh says it best: "Ultimately, an athlete makes a decision to take each and every stroke with a high, low, or even at times NO level of engagement.  The more an athlete can stay engaged while in a training session, the more benefits they will yield."
Do as the best swimmers in the world do: become a student of the sport and train smart.  As you begin to get comfortable with holding perfect technique–a low stroke count and swimming fast–it will start to become a habit.  Over time, you will realize you have taken your swimming to a whole new and exciting level.