College-bound Swimmers
Swimming in college is a rewarding experience.  It's an opportunity to see how far you can take your ability. You will develop relationships that lead to a lifetime of  friendships and even business contacts for your future career. Colleges offer different academic and training environments, cultures, climates and so much more.
Deciding on a college swimming program can feel a bit like the "Choosing Day" ceremony in the Divergent books. After all, you're leaving your family home for a new one that will help guide you towards adulthood. Picking the right college during the recruiting process requires you to understand both yourself and the team you are joining.
Decision Time
To help student-athletes and parents wrap their minds around the college recruitment process, Fitter & Faster Swim Tour sought input from coaches representing the NCAA swimming spectrum:
Division I: Tyler McGill (Assistant Coach, Auburn University, Auburn, Ala.) and Mark Gangloff (Assistant Coach, University of Missouri, Columbia, Mo.)
Division II: Jeff Dugdale (Head Coach, Queens University of Charlotte, N.C.)
Division III: Eric Scheingoltz (Head Coach, Drew University, Madison, N.J.)
"Selecting a college to swim at can be tough and stressful," acknowledges Gangloff, "but if you do your homework on where you want to go, you will have an amazing experience swimming in college."
First things first: What's the difference between Division I, II and III schools?
For the most up to date information on the rules of recruiting, visit NCAA.org.
Division I: The NCAA requires Division I (DI) schools to sponsor the most number of sports for men and women. DI schools must have either a minimum of seven sports for each gender or six for men and eight for women. These schools must also meet minimum/maximum financial aid requirements. Their football and basketball game attendance must hit certain attendance thresholds. There are approximately 130 DI swim programs for men and 190 for women. Prospective student athletes can send information to DI, DII, or DIII coaches when they are still Freshmen in high school or younger, however, they can not get contacted back by DI coaches until July 1 of the student's junior year.
Division II schools don't have to sponsor as many sports as DI (generally five for each gender). While DII schools do award athletic scholarships, they offer fewer full rides in favor of spreading the money across their teams. There are no rules governing game attendance or scheduling. There are approximately 54 DII swim teams for men and 73 for women. DII coaches also must wait until a recruit's Junior year in high school to contact him/her, but they get approximately a two week head start on the process versus their DI counterparts.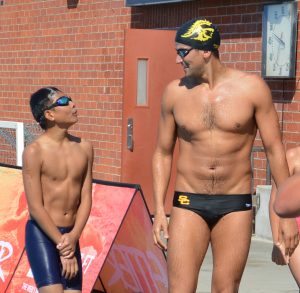 Division III coaches are permitted to contact recruits as early as their Freshman year in high school.  Another big difference between DIII schools versus DII and DI is the fact that they do not provide financial aid awards based on athletic ability.  DIII schools place the most importance on academics. The athletic experience is focused on the player, not the spectator – in other words, sports are not a big revenue generator for these school. So, athletics are treated more like any other extracurricular activity and less like a part-time job.
There are 198 DIII men's swimming programs and the women have 233. "While there are no athletic scholarships in Division III sports, that doesn't mean there isn't money to help pay for your education.  At Drew University, the merit aid that a student receives is based on their track record in high school." Scheingholtz advises. "Those students that challenge themselves with hard courses and achieve good grades are generally rewarded with an aid package that could very well be greater that the scholarship that a Division I or II school could offer."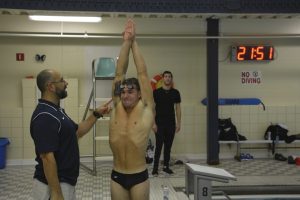 Other things to keep in mind:
Remember that recruiting is a two-way street. "It's not that we aren't calling you because we don't want you," notes Gangloff. "We aren't calling you because we don't have enough information. Maybe your high school meet didn't get entered in the database so we don't know about your best times. Coaches love when an athlete reaches out and starts the conversation. This shows us initiative and great athletes have that."
Even if you're not formally recruited, there's always the option of walking on. "If there's room on the team and you put in the effort and desire, there may be a spot for you," Scheingoltz says.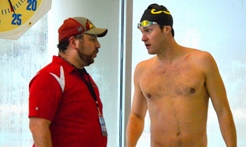 Keep coaches updated on your progress. "The best time to reach out is early in your junior year," McGill says. "That puts you on the radar. Then keep us updated on perhaps a bi-weekly or monthly basis. I want to know how training is going, how meets are going, what you're working on. That's the stuff that helps me build a relationship with the athlete."
Do your homework before you step on campus. "Make sure that the schools you are looking at have the degrees that you want," Gangloff says. "If your academics are in line with a particular school, research the times required to score at the conference level," Gangloff advises. "You don't have to be quite at that level yet but you have to be capable of doing those times in college."
Don't string a school along if you're not interested. "Be honest and tell the coach as soon as you know," Scheingoltz says. "Otherwise, it's a big waste of their limited time and recruiting budget."
Know that DI isn't the only place for fast swimmers. "There are a lot of options," says Dugdale. "And every option has fast swimming.  We're trying to break down the notion that you always have to go DI if you swim fast." (For the record, Dugdale is an Auburn University graduate.)
"We have three Olympians and a World University Games qualifier at Queens," he notes. He also says that the school's administration gives him and his athletes the freedom to focus on international meets. "They don't get down on me if I don't have those athletes focus 100% on NCAAs. They'll do very well at that meet but they never take their eye off of what they're going to do that summer. The school embraces that vision and so do I, and we recruit accordingly."
Dugdale also gets to take advantage of the resources of power team SwimMac, whose elite group trains at Queens and whose coaches are encouraged to work with the college squad. "With the unlimited number of volunteer coaches allowed in DII, I have a wealth of people helping me at any given time. And it's pretty exciting for our college swimmers to mingle with SwimMac's elite athletes. They see how the elites train and they pick up on things. It makes for better workouts."
Don't try to do it all during a 48-hour recruiting visit. "This is when you figure out if this is the group of people that you want to spend the next four years with," McGill explains. "Our goal is to know you as well as possible and have you talk to all of our coaches before you step foot on campus. Then, when you do get here, we can just show you the school and let you meet the team. This way, you can just enjoy your visit and experience what Auburn is all about."
Get past the small talk and look past the fancy football stadium. When you meet the team on a recruiting visit, make sure your conversations go deeper than where you're from, which events you swim and what you want to study. "Try to get past that and have real conversations about who you are and who they are," stresses Gangloff.  "Each school will be trying to impress you with facilities or football games but it's the relationships with the coach and team that creates the best fit. Ask yourself: 'Do I trust the coaching staff to lead me to be my best?'"
NCAA swimming offers terrific opportunities for swimmers of all abilities to go further in their sport and be part of a team.  The championship meets for NCAA Swimming for all three divisions are perhaps the most energetic and exciting swimming competitions in the world.  The competition between school and the camaraderie among teams is exhilarating.  Enjoy the process of finding the best school for yourself!