Past Clinic: Explosive Performance: Turns Camp
Texas Ford Aquatics
8353 Legacy Dr, Frisco, TX 75034
A description of what was covered at this past clinic is below the upcoming clinics.
Upcoming Swim Clinics and Camps
Within 250 miles of Frisco, TX.
Past Clinic
Introduction
Fitter & Faster is coming back to Frisco, TX on December 11 & 12, 2021! Sessions will be based on your swimmer's age. SAVE when purchasing a 2-day "Bundle" for your swimmer's age group!
COMPREHENSIVE TURNS CAMP – December 11 & 12, 2021
     -> DAY 1: Fast Flip Turns & More!    
     -> DAY 2: Fast Open Turns & More!
Click the "Curriculum Menu" below for details on each session of this camp. Session sizes are limited to no more than 24 participants to ensure the highest level learning experience! 
Select a curriculum below
DAY 1: FLIP TURNS & UNDERWATERS (Dec 11)
DAY 2: OPEN TURNS & FINISHES (Dec 12)
Curriculum
Session Times
Session Times & Groups
DAY 1: FLIP TURNS & UNDERWATERS (Dec 11)
On Day 1 of this camp, we will work with participants on approaching every wall in a freestyle and backstroke race at top speed and seamlessly executing their flip turn.
FLIP TURNS: Flip turns are an opportunity for your swimmers to increase momentum in the middle of a race! Flip turns in which the athletes slow down or have "mechanical" movements negatively impact the speed at which a swimmer comes off the wall. We will work with your swimmer to produce fast flip turns so that they can explode off the walls at maximum speed.
STREAMLINE: Immediately following the flip turn, a swimmer needs to get into the most perfect, hydrodynamic streamline. Many people think a streamline is very simple, but it's not! The streamline is the fastest an elite swimmer travels while in the water! Proper streamlines are even faster than underwater dolphin kicking. Even the most elite swimmers in the world are constantly working on improving their streamline. Your swimmer will get tips to improve their streamline and get a better appreciation of what they need to do after every single turn in practice and in races.
INITIATING UNDERWATER DOLPHIN KICKING: Elite swimmers want to maximize their streamline on every single lap. They don't want to start their underwater dolphin kicking while they're still achieving maximum speed in their streamline. They also don't want to start the underwater dolphin kicking after their streamline has begun to slow. We will teach your swimmer how to time when to begin their underwater dolphin kicking!
BREAKOUTS: Transitioning from a full-speed underwater dolphin kick into a breakout is so important! Many swimmers start too soon; start too late; or add movements within their breakout that creates drag and destroys all of the speed created during their underwaters. Participants will work on timing their breakouts to explode into each lap!
DAY 2: OPEN TURNS & FINISHES (Dec 12)
On Day 2 of this camp, we will work with participants on approaching every wall in butterfly and breaststroke race at top speed and seamlessly executing their open turn.
OPEN TURNS: Elite butterflyers and breaststrokers utilize speed from their last lap to create momentum and even more speed at the beginning of the next lap. Their open turns are actually not "turns", but more like high-speed pivots. Participants in this session will work on these techniques to have much faster open turns!
STREAMLINE, UNDERWATER DOLPHIN KICKS, BREAKOUT PROGRESSION: At this session participants will continue to work on the progression covered on Day 1.
FINISHES: Setting yourself up for a fast finish is very similar to setting yourself up for a strong turn in any race. Races are won and lost by hundredths-of-a-second at every swim meet. Many races come down to the last few strokes. At this camp, your swimmer will learn techniques to set themselves up for a well-timed finish when they are still about 10 yards from the wall.
BREASTSTROKE PULLOUTS: The best breaststrokers are faster under the water than on the surface! With the proper body position and timing, a swimmer's pullout will take them very far, very quickly! Your swimmer will practice utilizing this skill to significantly improve all of their breaststroke races.
SAVE when you purchase a 2-day "Bundle" for your swimmer's age group! Session times for both days: Ages 10-12 Saturday: Check in 1 PM, Clinic 1:15 PM - 3:45 PM Sunday: Check in 8:45 AM, Clinic 9 AM-11:30 AM Ages 13 & Over Saturday: Check in 4:30 PM, Clinic 4:45 PM - 7:45 PM Sunday: Check in 12:15 PM, Clinic 12:30 PM- 3:30 PM Suggested Participants: These camps are designed for swimmers with a minimum of one-year of competitive swimming experience all the way up to AAAA times and faster. Swimmers younger than 9 years old are not invited without submitting their times or swimming history to Fitter and Faster.
ASK QUESTIONS
At each session of this series, swimmers and parents are invited to ask the Elite Clinicians questions during a Q&A session. Gain insight into their training regimen, diet and nutrition, and recovery tactics.
WATCH THE CLINICIANS
Observe the clinicians at each session swim at full speed and demonstrate a progression of perfectly executed drills to achieve powerful, efficient and fast swimming.
PUT YOUR SKILLS TO THE TEST
Swimmers will get to practice what they've learned by taking their stroke to top speed with some of the best swimmers and coaches in the world! They'll work on holding onto their form while challenging themselves.
Take a photo with your clinicians, get autographs, and ALL PARTICIPANTS receive a FREE Fitter and Faster swim cap for the camp!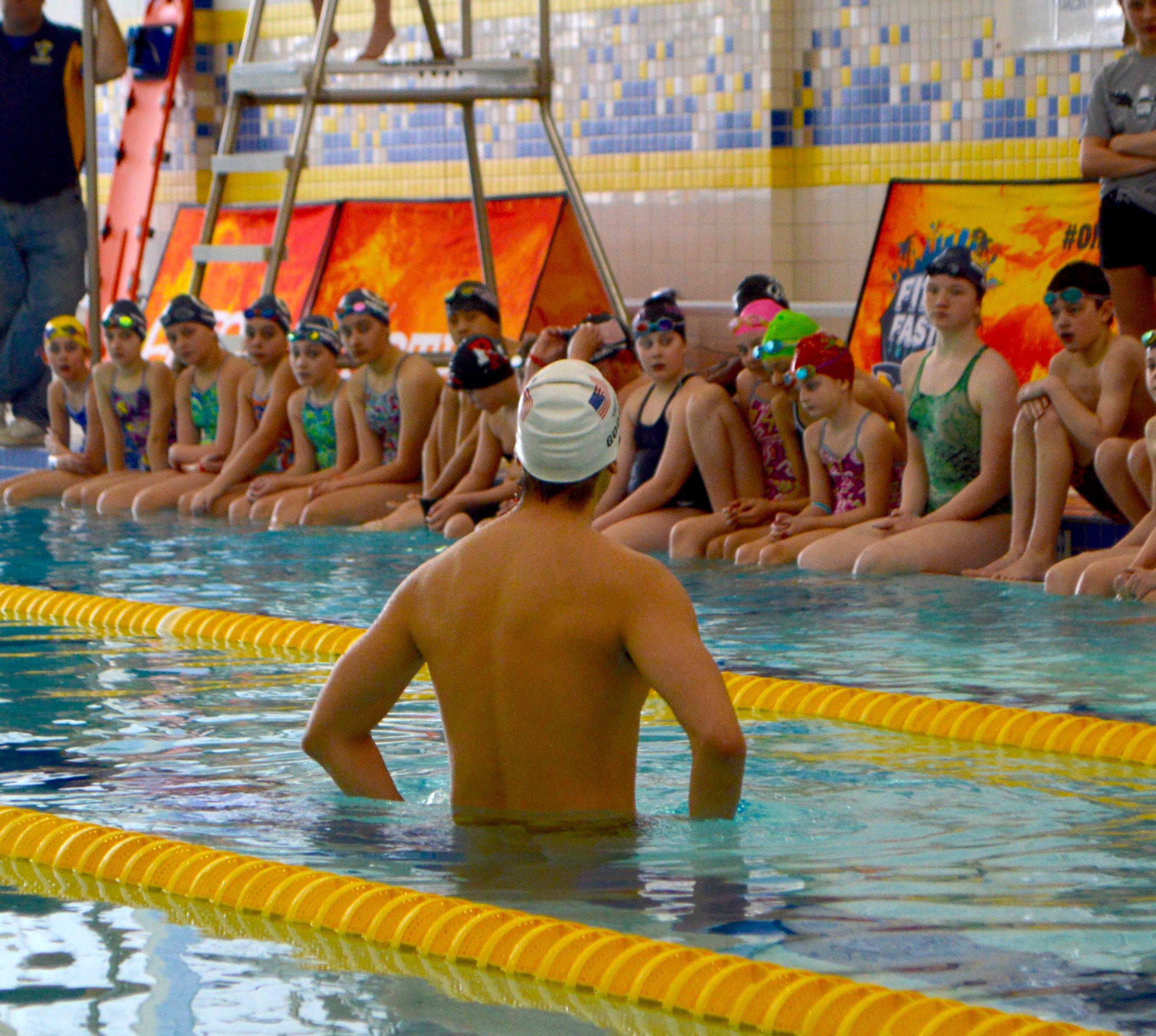 Elite Clinician
Fitter and Faster clinicians are Olympians and National Team members who have achieved at the highest level of the sport of swimming... and who have the unique skill to teach what they know from a technical perspective to swimmers of all ages and abilities.
Inquisitive, Educated Swimmers are Faster Swimmers! Sign up today!
Search all of our clinics...or request a clinic in your area