This swim clinic focuses on the most often overlooked areas where your swimmer has the opportunity to pummel their personal bests! Each session will have a specially designed curriculum for that specific age group and will be taught by Paralympic medalist Tucker Dupree!
Ages 11 & Under Session
Saturday, July 14
Check-in: 8:00 AM - 8:30 AM
Event: 8:30 AM - 11:00 AM

Ages 12 & Older Session
Saturday, July 14
Check-in: 12:30 PM - 1:00 PM
Event: 1:00 PM - 4:00 PM

Special Olympics Session
Sunday, July 15th
Check-in: 9:00 AM - 9:30 AM
Event: 9:30 AM - 11:30 AM 
Space is limited. Scroll down to read details on the curriculum.
---
11 & Under Curriculum:
Starts and Underwater Dolphin Kicking
Blast off the blocks, into underwater dolphin kick, and breakout ahead of the competition at this swim clinic designed to help competitive swimmers age 11 & Under improve upon the key details that are essential to swimming fast and improving their times. Paralympic medalist Tucker Dupree will teach all participants the drills that they need to practice to master these skills. 
Starts: Get off the blocks faster and with more speed and power by learning the techniques of Tucker Dupree! Your swimmer will learn to set up on the blocks in a position that will allow them to explode forward. Make sure to be fuly engaged in the air as you throw your hands forward into a tight streamline. Your swimmer will learn drills and exercises that will help make them faster at this clinic!
Underwater Dolphin Kicking: The fastest swimmers in the world dolphin kick off of their walls and breakout ahead of the competition. It's not as hard as you think. Tucker will help swimmers improve their technqiue as well as commit to a number of kicks off of every wall so that they can imporve their underwaters now as well as in the future.
---
12 & Over Curriculum:
Flip Turns, Open Turns, and IM Transitions
Get ahead of the competition at this High Performance Swim Clinic focusing on teaching you the proper technique for faster walls in your IM races. Work with Paralympian Tucker Dupree to learn the drills and skills you need to be able to improve on these challenging and athletic skills! 
Flip Turns: Learn to carry your momentum through the turn to get ahead of the competition every wall. Tucker is a World Record Holder due to his discipline and focus when executing a proper flip turn. Practice drills and exercises to help you flip faster and blast through every turn!

Open Turns: The open turn is often done incorrectly. Extra movements are added in that slow swimmers down. Keep it simple by spinning backwards and keeping your elbows in close. If you listen closely to Tucker; he will show you how he became one of the the fastest swimmers in the country through the turn. 

IM Transitions: There are several different ways to transition from backstroke to breaststroke in your IM races. Learn each option and figure out which one is best for you so that you can drop time in your IM races!
---
Special Olympics Curriculum:
Streamlines and Kicking
This session is specially designed for Special Olympians to learn essential skills for racing faster! Meet Tucker Dupree, take photos, get his autograph, swim with him, and ask questions! 
Streamlines: Streamlines are more than just putting your arms over your head! Your swimmer will learn how they should hold their hands, squeeze their head, and hold their body tight and strong so that they can rocket through the water. This skill is essential to being able to be a competitive swimmer! 

Kicking: Dolphin, flutter, and breast! The kick is your swimmer's motor to help them move forward efficiently in the water. Tucker will work with swimmers on improving their kick which will help them gain confidence in all 4 strokes. 
---
You might be wondering how a visually impaired swimmer gives feedback! The photo below is what Tucker's vision looks like underwater. He still can see and give swimmer's ample feedback, but he has adapted to rely on the sides of his vision.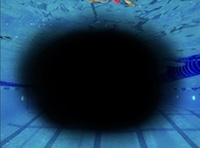 ---
ASK QUESTIONS: Swimmers and parents are invited to ask Tucker questions during a Q&A session. Gain insight into his training regimen, diet and nutrition, and recovery tactics. Learn about how he lost 80% of his vision and overcame this challenge to become a Paralympic medalist and World Record Holder! 
WATCH THE CLINICIAN: Observe Tucker swim at full speed and demonstrate a progression of perfectly executed drills to achieve powerful, efficient and fast swimming.
PUT YOUR SKILLS TO THE TEST: Swimmers will get to practice what they've learned by taking their stroke to your top speed with one of the best swimmers in the world! They'll work on holding onto their form while challenging themselves
Take a photo while wearing Tucker's medals, get autographs, and a gift from TYR Sport!
Inquisitive, Educated Swimmers are Faster Swimmers! Sign up today!
---
COACHES: 
Thise are spots available in the hands-on coaches program. If you are interested in meeting and working alongside Tucker during the clinic, please click the register button for the coaches program.