Date and Time
July 7, 2018

Location
Urbana Indoor Aquatic Center
102 East Michigan Avenue
Urbana, IL 61801
Give your swimmer the opportunity to get ahead of the competition at this High Performance FFT Swim Clinic. Paralympic medalist and World Record Holder Tucker Dupree will be in the water teaching your swimmer the proper technique for FASTER freestyle, flip turns, and breakouts!
Tucker will lead two sessions designed for competitive swimmers of all ages and ability levels:
Ages 11 & Under Session
Saturday July 7th
Check-in: 9:00 AM - 9:30 AM
Event: 9:30 AM - 12:00 PM


Ages 12 & Over Session
Saturday July 7th
Check-in: 1:00 PM - 1:30 PM
Event: 1:30 PM - 4:30 PM
Scroll down for details on the curriculum. Space is limited!

---
CURRICULUM:
Freestyle, Flip Turns, and Breakouts

Swim freestyle faster and blast through the turns to breakout ahead of the competition at this swim clinic designed to help competitive swimmers improve upon the key details that are essential to swimming fast and improving your times. Tucker will teach all participants the drills that they need to practice to master these skills. 
FREESTYLE: Learn how to hold a straight and solid body line so that you can rocket through the water with less drag. Keep your head still and low in the water while driving your kick. Tucker Dupree will also teach participants how to get an early and powerful press backwards on the water with your pull. You swim freestyle more than any other stroke. Learn how to swim it effectively, efficiently, and fast!
FLIP TURNS: Learn to carry your momentum through the turn to get ahead of the competition every wall. Use your core and your arms to get through the turn and then plant your feet on the wall for a powerful pushoff in the perfect streamline. Tucker is a Paralympian due to his discipline and focus when executing a proper flip turn. Practice drills and exercises to help you master this athletic skill. 

BREAKOUTS: Learn how to carry momentum from the underwater dolphin kicks into the breakout by timing the first stroke and staying streamlined. Your swimmer will practice keeping their head down and it'll make a big difference in their breakout!
---
You might be wondering how a visually impaired swimmer gives feedback! The photo below is what Tucker's vision looks like underwater. He still can see and give swimmer's ample feedback, but he has adapted to rely on the sides of his vision.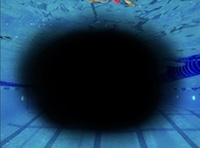 ---
ASK QUESTIONS: Swimmers and parents are invited to ask Tucker questions during a Q&A session. Gain insight into his training regimen, diet and nutrition, and recovery tactics.
WATCH THE CLINICIAN: Observe Tucker swim at full speed and demonstrate a progression of perfectly executed drills to achieve powerful, efficient and fast swimming.
PUT YOUR SKILLS TO THE TEST: Practice what you've learned by taking your stroke to your top speed with one of the best swimmers in the world! Hold on to your form while having the opportunity to challenge yourself
Take a photo while wearing Tucker's medals, get autographs, and a gift from TYR Sport!
Inquisitive, Educated Swimmers are Faster Swimmers! Sign up today!
---
COACHES: 
Thise are spots available in the hands-on coaches program. If you are interested in meeting and working alongside our elite clinician during the clinic, please click the register button for the coaches program.